Do I have anti-lock brakes?
---
I have a 1996 Dodge Intrepid ES 3.5L. Back in August, I had all new brake pads and rotors put on, and my brake fluid level is currently good too.

Anyway, this is my first winter driving (I'm 16), and I have been careful when weather is bad. Sometimes though, even if I'm not going very fast, my brakes will seem to stop working, and my car will just slide when the ground has a good amount of snow and ice on it. I know even with anti-lock brakes, stopping can be troublesome on bad terrain. I've come to a few stop signs though (I'll take my foot off the accelerator sooner and go 20-25 instead of 30-35 when it's bad out) and I'll start hitting the brake and all of a sudden, it's like they lose control and I just slide through the stop signs. Today I almost went through a red light, and that may have ended badly.

I also noticed that when I start my car, there isn't an abs light. Does this mean I don't have anti-lock brakes? Also, how do I know if i have traction control?

Thanks for the help!
Intrepid Modder
Join Date: Sep 2005
Location: Damascus, Oregon
Posts: 285
Do you have a traction control on/off switch? If you do you have traction control. A 96 E/S should have ABS, but check your brakes for the ABS sender wires.
Thanks for the reply!

How do I check the ABS sender wire? I don't really know anything about cars.
Intrepid Pro
Join Date: Nov 2005
Location: Southwest, UT
Posts: 3,041
Look below where you add the brake fluid. Below the cruide control servo. If you have the HCU (see pic below) thats the ABS motor. Then you have ABS Brakes.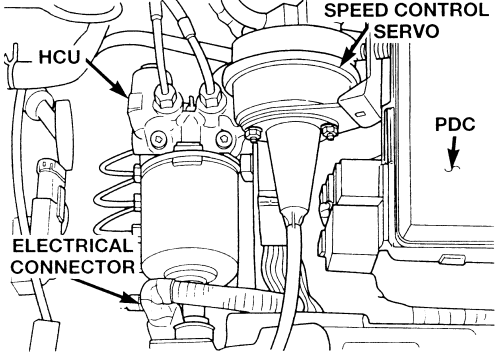 Intrepid Pro
Join Date: Aug 2005
Location: Aylesford, Nova Scotia
Posts: 2,461
You can't have traction control without abs, i'd guess it doesn't by the first post.
Intrepid Modder
Join Date: Dec 2008
Location: Phillipsburg, NJ
Posts: 550
I'm right there with you sterling. I have a 97 intrepid es 3.5. Mine does have abs, the light is in the message center. This is my first winter with it and it freaks me out when I step on the brakes and all of a sudden my pedal vibrates. It freaks me out so I let up and brake again although you aren't supposed to cuz it increases stopping distance. I drive a lot slower in bad weather too. It probably wont be so bad if my front tire tread wasn't only 4/32". You should have at least 6/32" or more for better traction in snow, so I read. Gonna invest in tires soon. I am lucky I haven't gone through any signs. No traction control on mine, kinda sucks.
---
Last edited by quietzephyr; 01-10-2009 at

09:46 PM

. Reason: more info
I guess it doesn't have traction control, because there is no button. I remember moving a Pontiac GTO at work that had a traction control button, but I thought maybe some cars might automatically enable it, or always have it enabled.

Thanks for that diagram strongt, I'll have to check for that tomorrow.
Dain bramaged
Join Date: Jul 2001
Location: Maryland
Posts: 7,146
if thats your engine compartment, you do not have abs. The ABS pump assembly is a big thing that sits in the void under the cruise control canister.
Ok thank you for the help. Yes, that is a picture of my engine compartment. I guess I'll just have to remember to be extra careful while driving in snowy weather.