Intrepid Pro
Join Date: Oct 2005
Location: Chatt, TN
Posts: 4,269
Early Years aka 93-95 I believe are the higher end compression years.

Far as Cams, I will repeat that last time we tried to change duration, in a OBD II LH car the computer refused to run it properly on a driveable scale. I am hoping OBD I would not care as much. We tried a 3.8 cam which had just minor extra lift and duration. PCM would not drive it at any reasonable pace.

Also, 2nd Gens got some of the extra power from tighter tolerances, hence they are interference motors. Softer Springs would not increase or decrease seeing that as one valve is opening another is closing so they equal each other out to be honest. If anything with higher RPMS you want higher seat pressure from a spring to prevent valve float. Also the PCM prgormaing, and re-designed-everything pretty much is the cause of power.

Far as lift, cam and rocker arm ratio is what controls the measurement. Once again you are playing with internals that can "kiss" so watch out. The fact the first gen 3.5 can snap a belt and not automatically grenade is a great thing.
---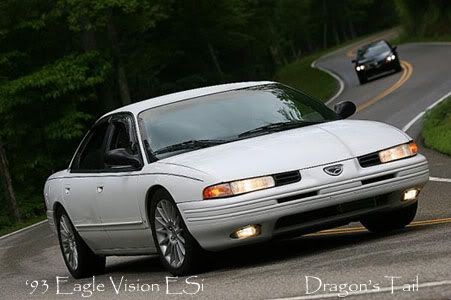 Intrepid Modder
Join Date: Sep 2011
Location: Rocklin, CA
Posts: 452
did you swap the sprocket from a 3.5 onto the 3.8 cams and the PCM would not run it? or did you use the 3.8 timing sprocket from what i can tell from this thread
4.0 Cams in an LH
and talking with my teacher the ecm should be able to run the 4.0 cams so long as we could adapt the timing sprocket on correctly, and of course like you said i need to look into clearances very carefully, im still debating if i should make it interference with a higher comp ratio or not
1st Gen FTW - It's AutoMedic!
Join Date: Jun 2008
Location: Garrison, ND
Posts: 15,412
Quote:
did you swap the sprocket from a 3.5 onto the 3.8 cams and the PCM would not run it?
They were doing this on a 3.3 engine, not a 3.5 - the 3.3 and the 3.8 engines are essentially the same engine with some larger dimensions - the cam gears are the same.
Intrepid Modder
Join Date: Sep 2011
Location: Rocklin, CA
Posts: 452
so the semster is winding down i got the head that i want all rebuilt and its ready for larger valves/seats when i get a chance, still need to get another 93-94 head and rebuild that. found i need a new set of rocker arms, i need to look into cost of replacing individual rocker or if i should just get a whole new assembly. im leaning towards new so i don't have to worry about the rest of the rockers failing.
i was misunderstood and thought the block class was the semester following this one but it seems it starts in fall, but honestly thats better for me as it gives me more time to save for parts, so now i got it all home took the block apart and snapped some pics.
Some very ground up journal bearings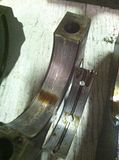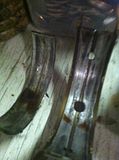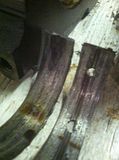 The nick in the crankshaft that im unsure if it will be able to grind out, oh well the 4.0 needs the new crank anyway just more motivation.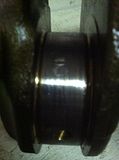 The broken rocker's you can see the tips on some of the rockers have been smashed in and float for about 1/8" up and down while others are rock solid and i cant push them down without really trying to do it.
Broken next to what it should be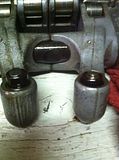 what it should be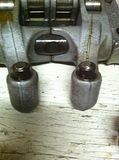 And we have a thrown connecting rod cap, the 4.0 needs new rods anyway so these would not have been reused unless the project is abandoned.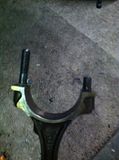 Connecting rod bearings are not in great shape either at least they are not as bad as the journals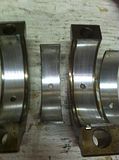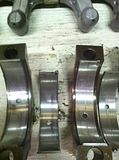 And here you can see the effects of the two different heads the motor was running when i pulled it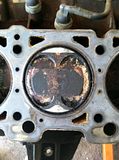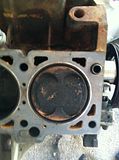 now some block pics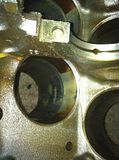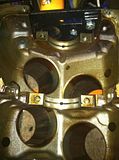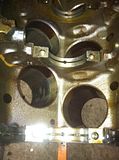 and from early observations the block is in ok condition, no cracks, gouges, or disasters, now its time to save every penny for the next 3 months till this project picks back up