Intrepid Fan
Join Date: Oct 2006
Location: Dallas
Posts: 240
where is the jack point
---
using floor jack to change oil
cannot understand following FSM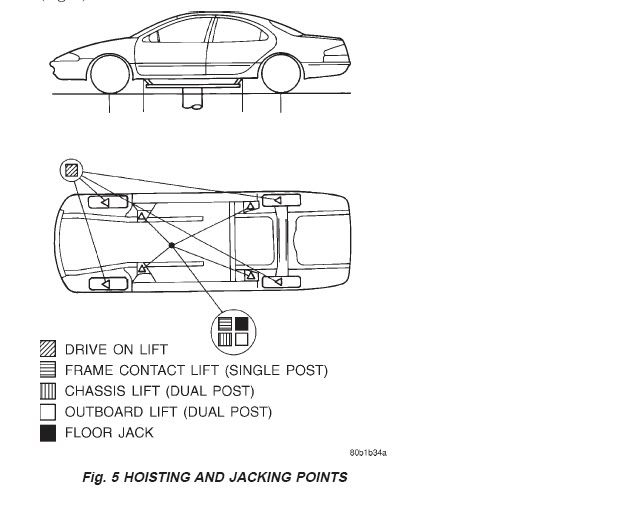 Intrepid Pro
Join Date: Mar 2006
Location: 40°28′49″N, 84°37′46″W
Posts: 2,763
Personally, use ramps.
As for the jack points, behind each wheel on the undercarriage, you will see a little 'donut.' You will know when you see it.
EDIT :
Just behind the front wheels.
---
Last edited by Scarface; 07-22-2007 at

04:13 PM

.
Intrepid Pro
Join Date: May 2005
Location: Not here anymore
Posts: 2,917
Mmmmmmmm Donut.............
Intrepid Modder
Join Date: Jun 2005
Posts: 566
On the rear, infront of the tires, there is a black odd shaped square piece of thick metal with a stabilizer bar sandwiched inside it that goes to the rear wheel, that is the rear jacking point and it in the same place indicated on the diagram. Be careful to place the jack so it doesn't bend that piece of metal and the bar doesn't start hit it if you bend it.

In the front there is a square bar piece that is at the tip of a triangle formed by the floor pans and the square bar, frame like. On the driver's side it is right next to the fuel and brake lines, you'll see it has double metal plates in it and two holes in it. They are directly across from eachother and in the same place as indicated on the diagram.

I personally use ramps and to change the oil you might get away with just lifting the driver's side front corner, I don't know for sure as I never tried it like that.

I've used the rear jack points a few times and the front once, some people have claimed to use the front cross member but I have read they have also ended up bending it after repeated use. But it is not a stated jacking point so if you use it you do so at your own risk.
Intrepid Fan
Join Date: Oct 2006
Location: Dallas
Posts: 240
I hit shit with sticks!
Quote:
Originally Posted by BlueTrep
using floor jack to change oil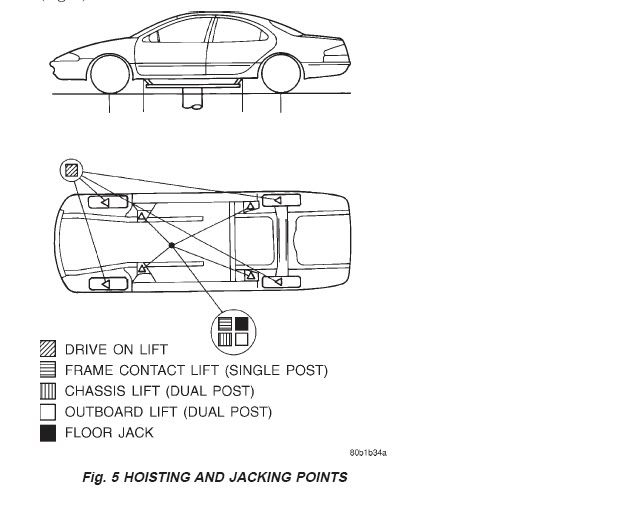 The points behind the front wheels--and in front of the back wheels-- (located by the triangles) is where I always jack them up. the tow holes are located in the same area. Its the best place-- very strong. You can jack it up pretty much anywhere on the engine cradle, but you end up with the jack or jackstands in your way most of the time.