Intrepid Pro
Join Date: Oct 2005
Location: Osceola, IA
Posts: 2,455
How-To: Hood latch release cable replacement
---
I had the "opportunity" to get to do this. It was not much fun. I am writing this up to save someone down the road a little time. I found the easiest way was to partially remove the driver side fender.
A quick note:
This assumes you have already managed to get your hood open.
This also assumes you have a new cable ready to go. If not read through the instructions to find out how to remove one from a salvage vehicle.
I do not believe there is any difference in generations 1 and 2 or make/model of LH vehicle.
STEP ONE: Open hood and place a prop rod on the driver side. (I used a short pipe)
STEP TWO: Remove the hood strut from the driver side. (use pliers for the lower and a flat-blade screwdriver pop the cap off)
STEP THREE: Remove the three 13mm hex head bolts on the inner lip of the fender.
Remove the 'backward facing' 10mm bolt in the door jam *there is a inverse torx bit that will make this much easier if you have one available. I used a ratcheting 10mm flex wrench (yes, it took a few minutes). Remove the two 10mm bolts on the lower side of the fender (one is hidden in the plastic inner liner).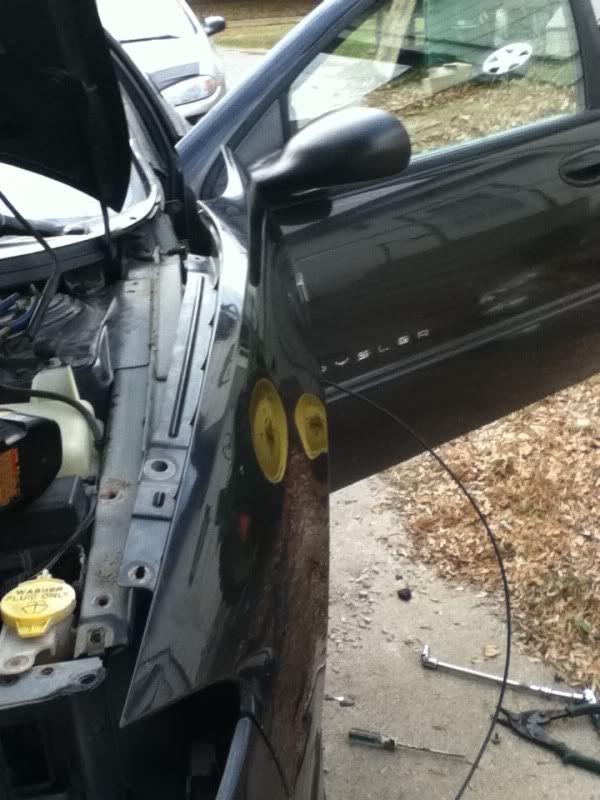 STEP FOUR: Remove the cable from the latch mechanism on the front of the car.
STEP FIVE: Locate the grommet and cable running through the firewall. * I cut the cable and grommet back a ways to make installation of the new cable easier. You may not want to do this out of fear of water leaks.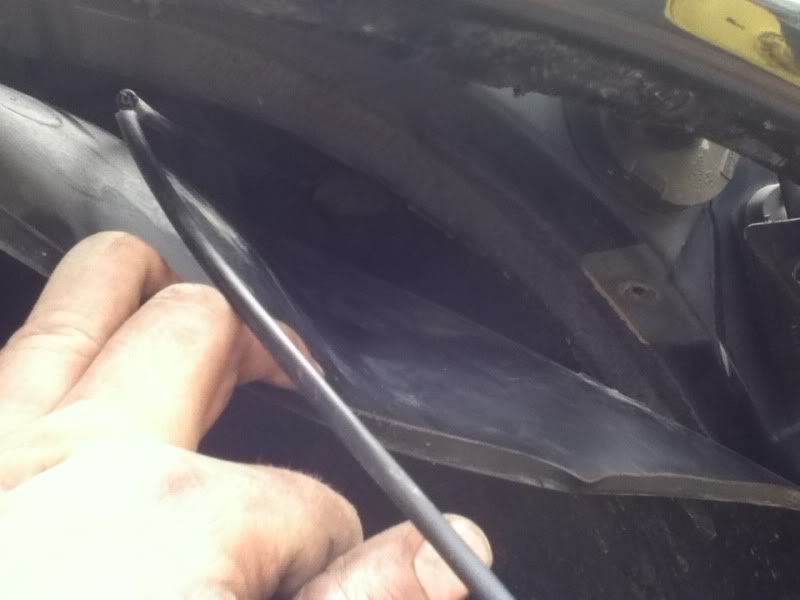 STEP SIX: Remove the following: Interior fuse panel cover, the panel below steering column, the lower door trim piece, the kick-panel that houses the hood release.
STEP SEVEN: Remove the two 8mm screws holding the release in place.
STEP EIGHT: pull firmly to remove the cable completely from the vehicle.
NOW THE FUN PART!
The cable is much harder to get back through the grommet than it is pulling it out. There is not much room for hands and is nearly impossible to see. I removed the screws holding the fuse panel to allow for better vision. I attempted to use a 'fish-tape' to pull cable through from the outside but both attempts were unsuccessful due to the small diameter of the cable. With some patience you can get the new cable snaked through the maze and into the grommet. Remember that the cable must pass under the wire harness on the lower kick panel.
---
2004 Chrysler 300m Special 3.5L HO 123k
2001 Dodge Intrepid ES 3.2L 156k
2001 Chrysler 300m 114k (parts car)
2002 Chrysler 300m Special (project car)
Posting Rules

You may post new threads

You may not post replies

You may not post attachments

You may not edit your posts

---

HTML code is On

---