View Poll Results

: Who will be the August 2011 Ride of the Month Winner?

Pappasmurf
5
23.81%
beeblebrox82
1
4.76%
01TrepSE
2
9.52%
spencerctown
1
4.76%
mnitetrain
5
23.81%
SkyHawk
4
19.05%
Strmvt
0
0%
jradams350
3
14.29%
Voters: 21. You may not vote on this poll
COTM Administrator
Join Date: Jan 2007
Location: DI.Net
Posts: 304
August 2011 Ride of the Month Semi-Final Poll
---
August 2011
Semi-Final Poll
Pappasmurf
Quote:
Originally Posted by Pappasmurf
Here is my trep: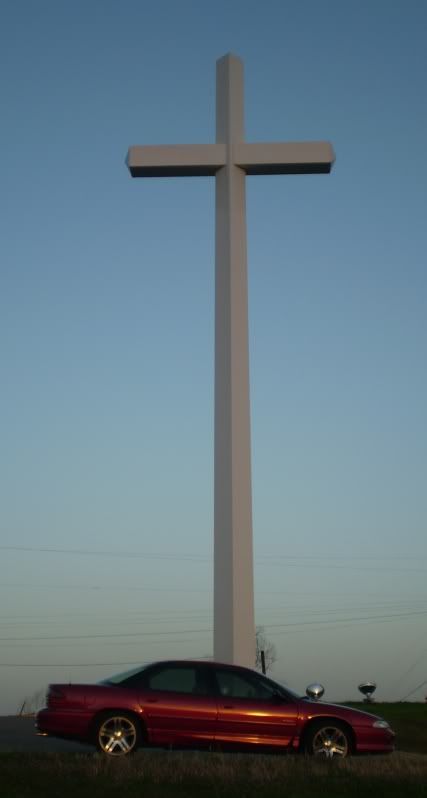 Summary:
My car is a 1993 Dodge Intrepid with the 3.5L powerplant.
I have done many modifications to my car and am still not finsihed.
Here are some of the mods;
-18" rims off a R/T Magnum
-Ceramic brakes on the front and semi-metallic on the rear.
- 2.5" true dual exhaust with a magnaflow 2 in 2 out muffler and round tips.
- FULL CAI that sits in the fender area in front of the passenger tire.
- White LED bulbs as the reverse bulbs
- Red LED halos and strips in the headlights.
- Red LED strips in the footwells, and under the front seats
- Red LED conversion of the instrument panel including gauges, climate control, key ring,
- Red EL GLOW wire arounf the shifter area
- 2 12" JVC competition subs 1200watts RMS a piece.
- 1500 watt RMS monoblock Crunch amp
- 2 JVC 6x9s in the rear deck
- 2 JVC 6.5s in the front doors
- 2 Memphis audio 3.5" speakers in the front windshield area
- JVC headunit with an 80GB harddrive
__________________________________________________ ___________________
beeblebrox82
Quote:
Originally Posted by beeblebrox82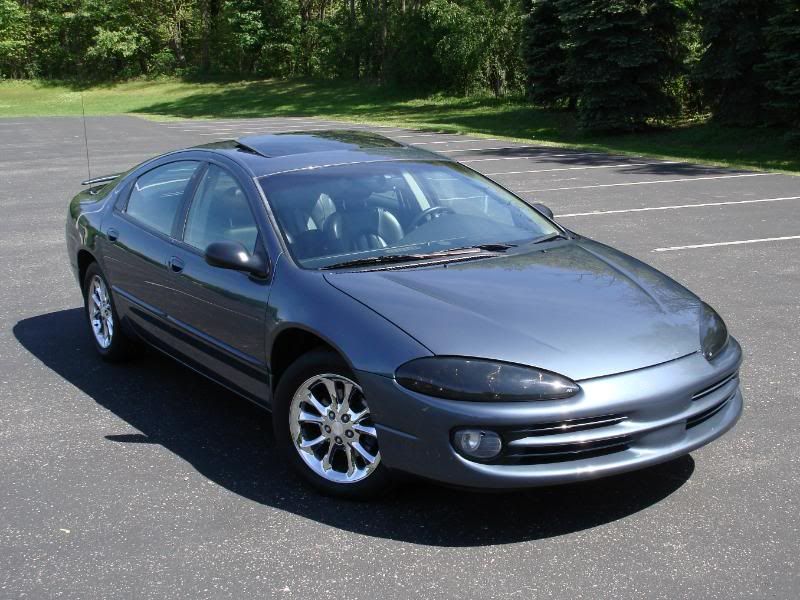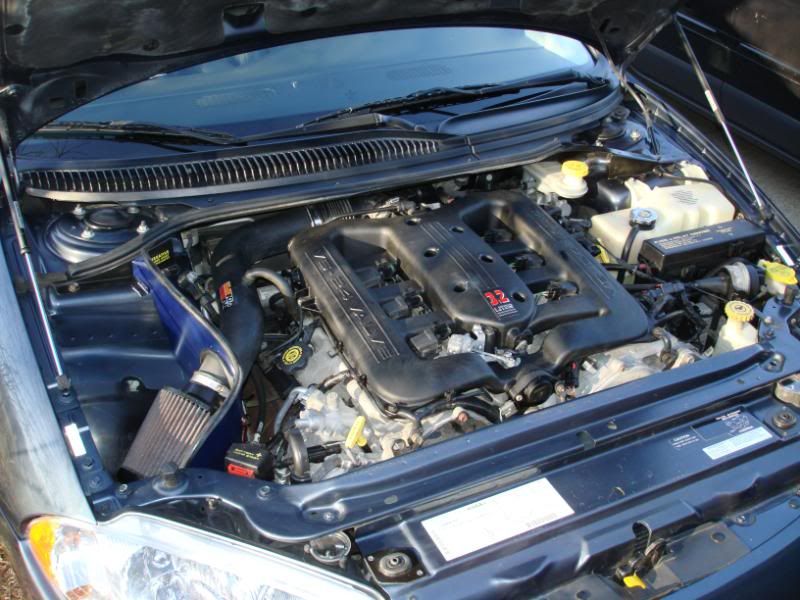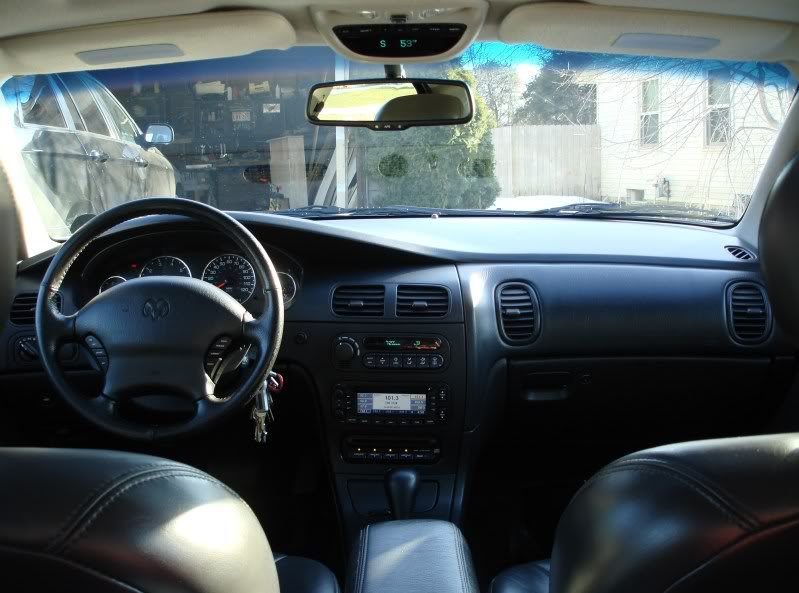 Born and raised with mountains of help form the fine folks at DI.net.
Mods:
6.5" Alpine SPR-17S Components In the doors, with the tweeters in the sails
6x9 4-way Pioneer TS-A6980R in the rear shelf
RB4 Nav HU tied to LC6 Line Out Converter
Hifonics ZXi6140 85 watts x 4 channel amp
Pioneer GM-5300T 125 watts x 2 channel amp
2 10" Pioneer subs
Modifications:
Sail speakers
MP3 player input through Cd changer input
ATC
MP3 player video output through RCD mirror
3.89 Gear set with matching TCM
Lighted Key Ring
Auto Headlight Switch
Slate Leather heated memory seats from a 99 LHS
Slate Vinyl Door panels (Replacing carpet panels)
4 Disc CD Changer
Painted brake calipers
Debadged
Steering Wheel Controls
AJ Series EVIC w/ Homelink
Chrome Door Handles
RB4 Navigation Radio
17" Chrome RazorStars Wrapped in BF Goodrich Traction T/As
OEM Spoiler
Concorde Instrument Cluster
K&N FIPK with custom heat shield & Northstar Elbow
Black Diamonds with Clear Corners
__________________________________________________ ___________________
01TrepSE
Quote:
Originally Posted by 01TrepSE
__________________________________________________ ___________________
spencerctown
Quote:
Originally Posted by spencerctown
My names Spencer Townsend (spencerctown) and this is my 2000 Intrepid ES. I would have liked to enter the COTM again when I added more to my car but I'll submit now so hopefully COTM will stay alive. Idk if anyone will ever read this but I'll give it a go anyway
I absolutely love this car and cant see myself being happier with another. And its getting better by the month. Soon I will have the halos in the headlights and in the fogs (custom made) hooked up to a switch but the fogs are not completely done yet. But theres always another project to work on right?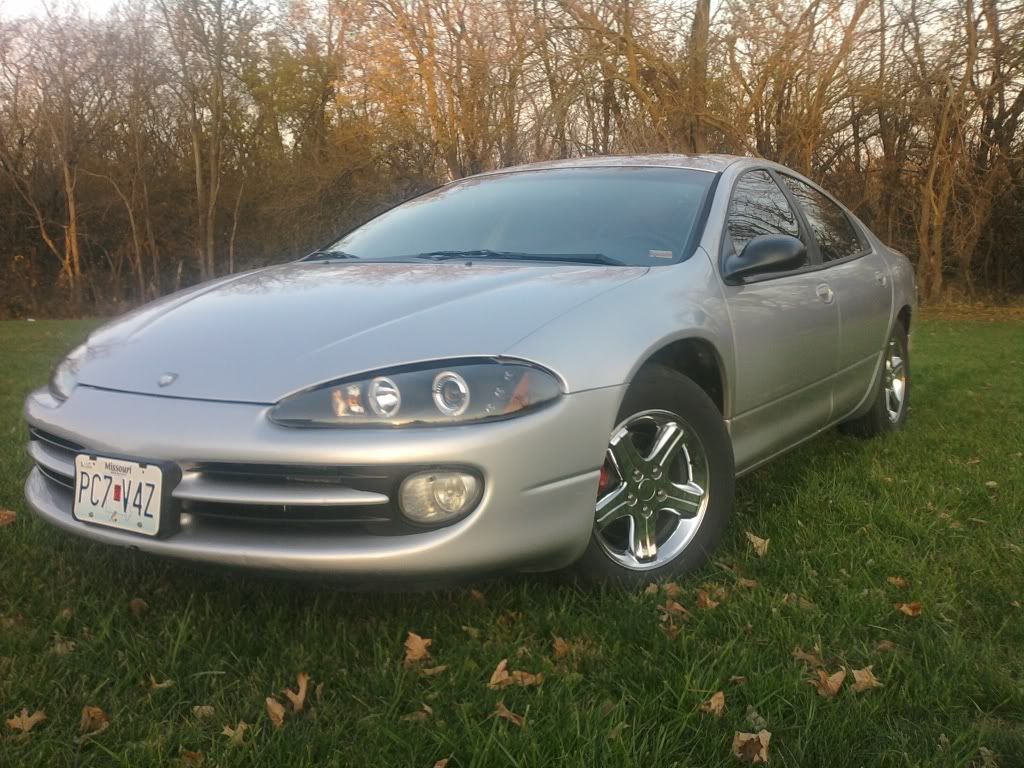 The mod list:
Projector headlights with HIDs
K&N cold air intake
Magnaflow dual exhaust
Auto headlight switch
Painted door speaker grill
Chrome wheels from an sxt
Leather console lid
Tinted taillights
Painted calipers
Soon to add a spoilerdepot spoiler and the halos as mentioned above. Thanks for checking it out, now off to the whore thread!
__________________________________________________ ___________________
mnitetrain
Quote:
Originally Posted by mnitetrain
2001 Chrysler 300M, PHP & LUX PKG, remote start, RB1 & Sirius, 2 12 Kicker CVR, Engine replaced at approx 440,000 with a donor, trans replaced at approx 350,000 with a donor-purchased off lease with 60,000 miles. Odometer stopped at 536,870 2 years ago, estimated currently +640,000. Daily driver used as courier vehicle 250-400 miles nightly. As luxo cruiser it has toured North Carolina outer banks from Corrolla to Ocracoke Island, been to DisneyWorld, Fl, rode the AutoTrain, Cruisin Ocean City and Ocean City Endless Summer cruise in, and Carlisle at least 3 times, I think 4 maybe. This week replaced starter with new OEM (NOS from TFC), replaced cats with (TFC 4,000 miles Special Cats) when tranny was dropped. Still gets 28 MPG with the new NGK 7781 plugs.
Mnitetrain
Hank
__________________________________________________ ___________________
SkyHawk
Quote:
Originally Posted by SkyHawk
I bought my 1997 Intrepid back in July 2003 with the 3.3L and 94,000kms on it. It all started off by putting a new Sony MP3 deck in it and finding DodgeIntrepid.Net through Google one day. The modding fever had begun after that! Since then, I've spent countless hours and about $8,000 getting to this point on mods, repairs etc. There were many, many times I just wanted to get rid of it, because of the break downs and repair costs were getting ridiculous. But now I'm happy I stuck with it and ended up having a good reliable car 8 years later. I still enjoy driving the Intrepid very much and working on it when ever I can!
Also, most of this modding wouldn't have been possible without the great help, advice and input of the many members here on di.net. Thanks to all of you!
List of the many mods, updates and repairs:
Engine & Drive Train:
Tsunumi Battery Terminals
Underhood Light & Harness
'97 Civic Candy Red Cold Air Intake w/REZTON Stainless Steel Filter
Transmission Flush ATF +4
New Radiator
New Stabilizer Links
New RH Tie Rod End
New Rack & Pinion Inner Bushings
New Exhaust, Front Doors Back Including a Single Magnaflow Dual Satin Stainless Steel Muffler With Chrome Tips
Interior:
Concorde Gray Leather 8-Way Power Leather Seats (Incl Recline) w/Embroidered R/T Logo's on Headrests
Light Grey Vynil Door Inserts
Leather Steering Wheel
Chrysler LHS Grey Leather Console Lid
Full OTIS, Headliner with Grab Handles
Lighted Vanity Visors
94-99 Dodge Neon Autometer Dual Gauge Pod - Modified To Fit w/Trisco 7 Color LED Electric Oil Pressure Gauge & Voltmeter
Premium BCM
New OEM Leather Shifter Knob
Xenon Hyper White Interior Lighting
Shift 3 Wireless Backup Camera
Factory Infinity Speakers
Keyless Illuminated Entry
Auto Dimming Mirror
LHS Auto Headlights w/Delay
AutoStick Conversion
Wildberry Color Matched Dash Bezels & Interior Trim
SONY CDX-GT300 CD/Mp3 Player w/9 Factory Infinity Speakers
Tinted Windows - 35% on Sides & 20% on Rear
Full Blue LED Conversion to Cluster, HVAC, Headlight Switch,
Halo Key Ring, Mirror Switch, Window & Door Lock Switches
Exterior:
Yokohama AVID TRZ P225/55R/17 On
'99 300M 17" Razor Star Chrome Wheels
2 - 2002 Dodge Intrepid R/T Door Emblems
1 - 2006 Dodge Charger R/T Trunk Emblem
New Headlight Housings
Xenon Hyperwhite 9007 5000K Bulbs
GTS Headlight Covers
Clear Corner Lenses
AVS Ventvisors
Xenon 55w H3 Fog Lights
Xenon Tail Light & License Plate Bulbs
Factory Power Antenna
3157 Super White LED Back-up Bulbs
Spoiler w/LED 3rd Brake Light
Rear Factory Mud Flaps
Full Factory Bra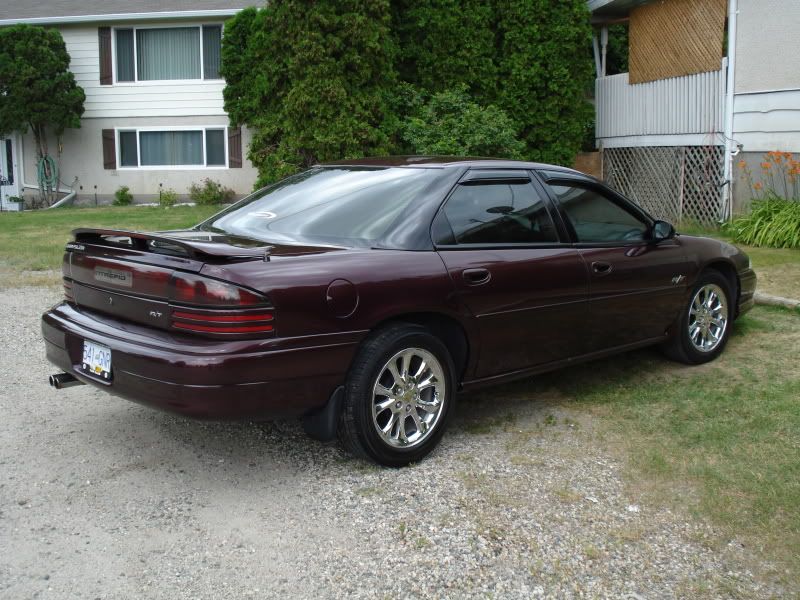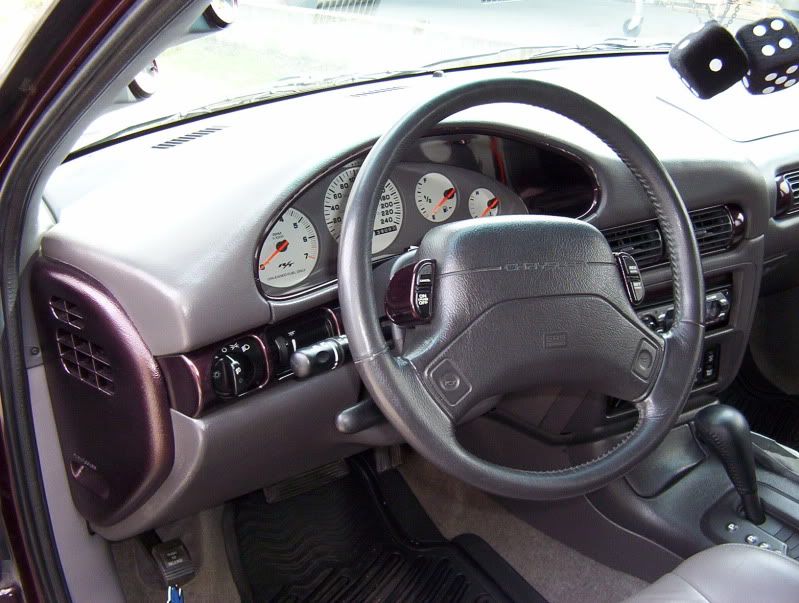 __________________________________________________ ___________________
Strmvt
Quote:
Originally Posted by Strmvt
Hey guys n gals,
Enclosed you will see a few pictures of "Shelly" as she is affectionately called.
"Shelly" is a 2001 SE which has had the following modifications done to her. A 2.7-3.5HO conversion, 300M dash swap with ATC and Autostick, and Slate colored 300M heated/memory seats with complete body harness. Mods still in the works are Gen 1 LHS "honeycomb" wheels which are at the powder-coater at the current time, and the remaining light taupe trim pieces and door panels which are hard to come by when the ones you find are torn to shreds by folks who don't know the worth of the parts.
The first picture is of the dash swap and the addition of Autostick in the color combo of Taupe and Light Taupe.
Second picture is of the slate seats.
The third picture is of the 3.5HO conversion
I know the rules say only three pictures but here is a side profile picture of "Shelly"
__________________________________________________ ___________________
jradams350
Quote:
Originally Posted by jradams350
Here is my submission for the August COTM contest.
SUMMARY:
This car has come a long way from where it started it's life. I got this car in 2007 and it has been getting fixed on and off for a while. Finally in September 2010 I got the car completely running and quit having it destroying fuel pumps. The only major mod if you would want to call it that, is the fact that it has been rebuilt and is in running condition.
It sits with 3 GM Vehicles and 2 farm tractors and it is just currently used as a mail getter but soon will be completely back on the road.. It will also be pretty soon that once it gets back completely on the road that it will start showing up at meets.
Signature Page where it can be seen from beginning to as it is now :
https://www.dodgeintrepid.net/showthread.php?t=211538
Posting Rules

You may not post new threads

You may post replies

You may not post attachments

You may not edit your posts

---

HTML code is On

---