Intrepid Newbie
Join Date: Nov 2006
Location: Minnesota
Posts: 93
Myself I'd rather have the Charger in police trim it looks right(mean)! To me the Taurus looks like someone just slapped on a lightbar and some decals and called it a police car.
But then again I'm pretty partial to Dodge. Also check out the Michigan State Patrols yearly test of cop cars. The Charger has finished first all but one year since 2006.
Intrepid Modder
Join Date: Aug 2012
Location: Lancaster / Palmdale
Posts: 345
Quote:
I agree with this as well!! Give me that charger man! Why do I think of a camry when I look at the ford in the picture??
Because Ford and Chevy are trying to make their cars LOOK Japanese instead of having making them RELIABLE like Japanese cars.. Douche holes.
Intrepid Modder
Join Date: Aug 2012
Location: Lancaster / Palmdale
Posts: 345
Quote:
Have to agree...just another rebaged restroked something else...pretty usual for GM.
This was the only real Caprice IMO: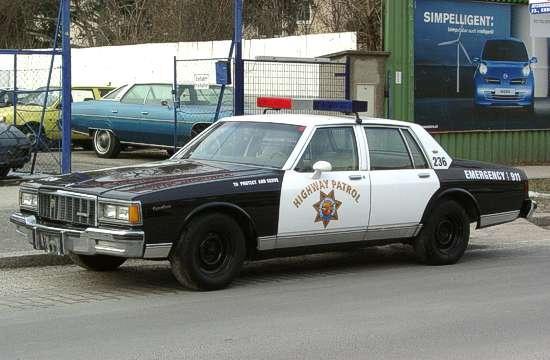 These Caprices are so sweet.. and the generation after these.
[IMG]
[/IMG]
this is what alot of the popo is going to here in northwest Indiana and Illinois by chicago and suburbs......we got this direct from the dealership and it was an all black "interceptor". The window sticker did not call this an Explorer...just a Police Interceptor...which I thought was weird....Working at a collision/autobody repair shop we got to paint the doors white, and do the decals....I got to take the door handles and door panels out....the rear doors have handles inside and outside, but the interior steel braided cable which would operate the inside handles is taped inside a pocket of foam so it cannot be operational....when I took the door panel off a paper fell out of it saying to NEVER install the cable...lol.....DUH!!! The detective who drives this is the autobody shop owners cousin so when he wrecked it a month later we got to fix it...MAN there are a shit load of wires and stuff with the lights under the grill....all the wires were hard wired so we couldn't disconnect them....we had to work around them...made for an interesting time....
and as for that LED spotlight....ITS BADASS!! Will light up the wall in direct sunlight....i got to play with it alot while this was in the shop.....the truck is badass! A LCD guage screen, banging stereo, LED interior lighting, headlights and police lights....ITS ALL LED! It looked super sweet lit up at night! My crappy iphone camera doesn't take great pics so I couldn't get a good one of it at night....
oh ya....its an all wheel drive V6...