Intrepid Pro
Join Date: Nov 2005
Location: Southwest, UT
Posts: 3,041
2009 Maxima
---
From AutoBlog.com:
New York 2008: Nissan unveils 2009 Maxima with "liquid motion" sheetmetal
Ever since Nissan took the Altima upmarket in both size and prize, the Maxima has suffered from an identity crisis. In the Nissan/Infiniti lineup, this premium front-wheel-drive sports sedan suffered a middle-child syndrome while slotted between the less-expensive yet still capable Altima and the more aspirational rear-wheel-drive Infiniti G35 sports sedan. Nissan hopes to give the Maxima a new voice in its crowded lineup of large sedans with the new 2009 model that comes in your choice of a 3.5 S or 3.5 SV trim. Clearly, it packs a visual punch.
The new design is something Nissan calls "Liquid Motion". It's dynamic, for sure, with peaks and valleys among flowing lines and sharp creases that combine to form a muscular shape. See a little of the last-gen Nissan Skyline GT-R in that grille? We do, and that's not a bad thing, though the new wraparound L-shaped headlamps may not go over well with everyone. Despite the large front and rear overhangs, Nissan actually shrunk the Maxima's length and wheelbase while widening its track. Call the design what you want, but it's not derivative and the expressive flanks make it truly look like a four-door sports car.
Backing up the new look will be the venerable 3.5L VQ V6 in both the S and SV models, now producing 290 horsepower and 261 pound-feet of torque. Apparently the Maxima still isn't premium enough for the best V6 in the parts bin (the new 3.7L to be specific), but the 3.5L makes 35 more horsepower in this iteration than it did in the last-gen Maxima. Those who like to keep their left foot busy, however, will be disappointed, as a new version of Nissan's Xtronic CVT is the only transmission offered. Paddle shifters, however, will be available, and a new Ds (drive sport) mode will be present.
The interior is nicer and much more inviting in person than it is in the photos. Even the Klingon warship steering wheel makes perfect sense when you're sitting in the driver's seat. It's cosy, but anyone who enjoys Nissan seating will like this just as much. Possibly the only issue we'd have with the Infiniti-esque center stack is that it's perhaps too close to an Infiniti -- but that's just good news for Maxima buyers.
So will the all-new 2009 Nissan Maxima finally find a place for itself, carve out an identity that connects with the public, and go on to bigger and better sales? A fluid new form and the return of the 4DSC ethos may get the job done, though you'll have the final say.
[Source: Nissan]
To read more, and see more pics here:
http://www.autoblog.com/2008/03/19/n...quid-motion-s/
---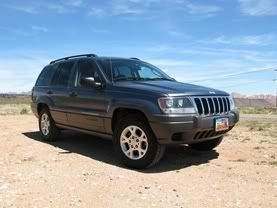 2003 Jeep Grand Cherokee my current DD
1995 3.5L Intrepid, Sold in 2010
Intrepid Modder
Join Date: Apr 2007
Location: earth
Posts: 298
I like how their new exterior looks like EVERY OTHER NEW CAR.

Either way, this new camry looks good, or was it an accord? OH its a nissan!