Intrepid Pro
Join Date: Nov 2005
Location: Southwest, UT
Posts: 3,041
2010 Hyundai Genesis
---
From: Insideline
Hyundai Genesis Coupe Beats Camaro and Challenger in Power-to-Weight Ratio
FOUNTAIN VALLEY, California — Hyundai made it clear that the 2010 Genesis Coupe is targeting the newest American muscle cars and BMW's perennial powerhouse when it released the car's specifications on Thursday. Hyundai notes the 3.8-liter Genesis coupe weighs in at 3,402 pounds and has a better power-to-weight ratio than the BMW 335i, Chevrolet Camaro LS or Dodge Challenger.
The Genesis Coupe's base engine is a 2.0-liter turbocharged inline-4 making an estimated 220 horsepower and 223 pound-feet of torque. A six-speed manual will be the standard transmission; a five-speed automatic is optional. Top speed is expected to be 137 mph, with highway fuel economy estimated at 30 mpg. Hyundai will offer a Track model of the four-cylinder coupe, but the top four-banger will be the R-Spec model with performance add-ons and comfort conveniences targeted at tuners.
The second engine, a 3.8-liter V6, is the weapon the Koreans hope to use to swipe market share from the U.S. makers' products and from BMW. It will make about 310 hp and will be paired to a six-speed manual or automatic transmission. Top speed is predicted to be 149 mph.
The 3.8 Track model mates the V6 engine with four-piston Brembo brake calipers, a limited-slip differential and 19-inch gunmetal wheels wrapped in high-performance summer rubber. A tweaked suspension includes stiffer springs, new dampers, a 25mm stabilizer bar in the front and a 22mm stabilizer bar in the rear. Aluminum pedals, foglamps, a rear spoiler, a blacked-out rear fascia and aero windshield wipers are also included on the Track car.
In total, there are seven models of the Genesis coupe. Standard equipment includes keyless entry, USB audio and Bluetooth connectivity and steering-wheel audio controls. Range-topping trims offer features like xenon HID headlights, an Infinity audio system, heated front seats, a reverse warning system and a navigation system.
Inside Line says: The only thing Hyundai failed to include was a 0-60-mph time. — Eric Tingwall, Correspondent
---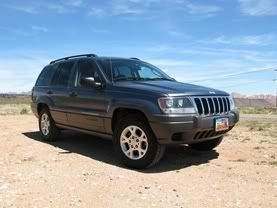 2003 Jeep Grand Cherokee my current DD
1995 3.5L Intrepid, Sold in 2010
Intrepid Pro
Join Date: Mar 2002
Location: illinois
Posts: 2,488
Just wait for the direct injection & 8 speed automatic.
Hopefully they will offer a 275hp 3.3 V6 & 325hp 3.8 V6
It is plenty fast
YouTube - Hyundai Genesis coupe
questions: regular or premium, all seasons or summer, open or torsen?
anyway it is faster than an LH