Intrepid Pro
Join Date: Nov 2005
Location: Southwest, UT
Posts: 3,041
Pontiac Set To Unveil G8 GXP With 638-HP LSX Crate Motor
---
From: Insideline
Pontiac Set To Unveil G8 GXP With 638-HP LSX Crate Motor
A lowered suspension, revised front fascia and 20-inch aluminum wheels give this G8 Street Concept a slightly more aggressive look than its production counterpart.
LAS VEGAS — Pontiac combined its most capable sedan with one of GM's most potent crate motors to create the G8 GXP Street Concept. Both the production G8 GXP and the LSX454 crate motor go on sale this fall.
In this application, the LSX454 produces 638 horsepower and 600 pound-feet of torque. Both numbers are enough to make this G8 blindingly fast even though the engine comes in just shy of GM's supercharged LS9. A six-speed automatic sends the power to the rear wheels. The production Pontiac G8 GXP is powered by a 6.2-liter, 415-hp V8.
Other modifications to the G8 GXP Street Concept include an ungraded set of brakes borrowed from the Cadillac CTS-V, a lowered ride height and stiffer springs. A set of 20-inch aluminum wheels wrapped in high-performance tires completes the performance package.
Cosmetic upgrades include new front and rear fascias and extended rocker panels. All the exterior brightwork has been refinished in black chrome, while a set of custom-cut aluminum exhaust tips finish it off. Interior upgrades include a new gauge cluster with unique graphics and black chrome in place of the silver factory trim.
Inside Line says: This is the kind of car that reminds us that Pontiac was once GM's performance division. — Ed Hellwig, Lead Senior Editor
---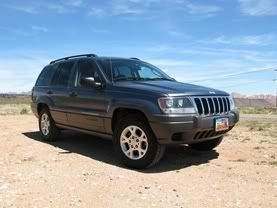 2003 Jeep Grand Cherokee my current DD
1995 3.5L Intrepid, Sold in 2010
Intrepid Modder
Join Date: Aug 2007
Location: PA
Posts: 946
AAAHHH yea sign me up for one of those!