Intrepid Pro
Join Date: Nov 2005
Location: Southwest, UT
Posts: 3,041
Chrysler Introduces Plusher Interiors for Minivan's 25th Anniversary
---
From: Insideline
Chrysler Introduces Plusher Interiors for Minivan's 25th Anniversary
WINDSOR, Ontario — Chrysler has introduced gussied-up 25th-anniversary versions of the venerable minivan that it began producing here 25 years ago. Pricing and expected volume haven't been announced, but Rick Kukucka, director of car and minivan product planning, told Inside Line that the company plans to sell "a whole lot of them."
The 2009 anniversary editions of the Chrysler Town & Country Touring and Dodge Grand Caravan SXT models feature new dark slate and medium slate gray interior combinations that, the company said, "create a premium atmosphere while enhancing the interior" of Chrysler's fifth-generation minivans.
The bonus appointments include a unique combination of wood trim on the instrument panel and doors that accents satin finishes and provides a sense of fresh detail. Seats in the new colors feature perforated leather and are enhanced with French-seamed stitching. "It's all about the unique interior style," said Michael Berube, senior manger of Chrysler brand marketing.
Chrysler held a minivan love-in today at the company's assembly plant here, where former chairman Lee Iacocca drove the first minivan off the assembly line in 1983. Now that the plant has produced 12 million of the vehicles and Chrysler still retains a 40-percent share of the U.S. minivan market, Iacocca returned — on videotape — to salute the vehicle.
"The timing was perfect" for the minivan back then, Iacocca recalled, "because baby boomers were just starting their families." The vehicle whose development he authorized "changed the way people thought about transportation."
Addressing the plant's workers, Chrysler executives and dignitaries, Canadian Auto Workers President Rick LaPorte was happy to suggest a way to — well, create some "demand" for the new 25th-anniversary versions. Windsor plant workers should tell local "businessmen...doctors, lawyers and teachers in this community" that "they must buy a 25th-anniversary minivan." Remind them of "what it means to your standard of living" and that of this Canadian suburb across the Detroit River from Motown.
Inside Line says: Chrysler is focused on continuing to enhance what is arguably its most significant vehicle or brand franchise, so expect great deals for the 25th-anniversary — and other — versions. — Dale Buss, Correspondent
Chrysler today unveiled 25th anniversary versions of its Chrysler Town & Country Touring and Dodge Grand Caravan SXT for the 2009 model year.
Former Chrysler chairman Lee Iacocca introduced the first minivan in 1983.
---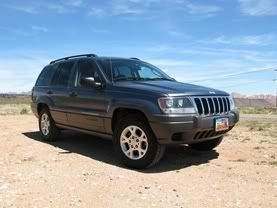 2003 Jeep Grand Cherokee my current DD
1995 3.5L Intrepid, Sold in 2010
Intrepid Fan
Join Date: Oct 2006
Location: Dallas
Posts: 240
the only survived US minivan, I like them and VW routan as well.