Intrepid Pro
Join Date: Nov 2005
Location: Southwest, UT
Posts: 3,041
Leaked: 2010 Kia Sorento
---
From InsideLine:
Leaked: 2010 Kia Sorento
SEOUL, South Korea — Additional images of the redesigned 2010 Kia Sorento have been leaked on the Web, weeks ahead of the vehicle's official debut in April at the 2009 Seoul Auto Show.
Fan site kia-world.net revealed what appears to be an official front-end shot of the vehicle, which is scheduled to make its North American premiere in less than a month at the 2009 New York Auto Show. The site also released a rendering of the interior.
According to kia-world.net, the 2010 Sorento will offer a choice of two engines in the U.S., including a 2.4-liter four-cylinder and a 3.8-liter V6. For the home market, a new 200-horsepower 2.2-liter turbodiesel also will be available, as well as a new six-speed automatic transmission.
The new Sorento shifts to the Hyundai Santa Fe platform and is slated to go into production late this year at the new Kia plant in Georgia.
Inside Line says: The new Sorento looks much more modern than its predecessor. — Anita Lienert, Correspondent
---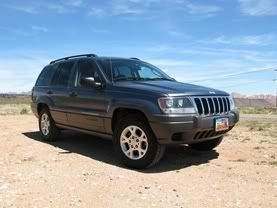 2003 Jeep Grand Cherokee my current DD
1995 3.5L Intrepid, Sold in 2010