Intrepid Pro
Join Date: Nov 2005
Location: Southwest, UT
Posts: 3,041
Honda's new hybrid disappoints
---
From CNN:

Honda's new hybrid disappoints

New hybrid-only Insight does too poorly on Consumer Reports tests to earn a recommendation.

NEW YORK (CNNMoney.com) -- Honda's new hybrid-only Insight, touted as a low-cost competitor to the Toyota Prius was dealt a major blow Monday after it failed to get a thumbs up from the influential magazine Consumer Reports.

"The Insight is the most disappointing Honda Consumer Reports has tested in a long time," said David Champion, director of the magazine's auto test center.

The magazine roundly pans Honda's (HMC) new hybrid car in its upcoming August issue, criticizing its ride quality, handling, interior noise, acceleration, and rear-seat access.

Champion called the car "noisy and stiff-riding," in a statement released by the magazine.

Out of 22 currently available hatchbacks and small wagons the magazine has rated, the Insight ranks 21st.

The Insight scored 54 out of a possible 100 points in the magazine's tests.

Therefore, Consumer Reports will not recommend the Insight based on the results.

The only car that ranked worse was the Dodge Caliber. The Caliber scored 49.

Honda defended its car's performance. "Initial feedback from most customers and automotive media regarding the all-new Honda Insight has been very positive," said Honda spokesman Chris Naughton. "In fact, the Insight has won several hybrid comparison tests completed independently by automotive media outlets," Naughton said.

The Insight is a "mild hybrid," unlike the slightly more expensive Toyota Prius against which it competes. The Insight requires its gasoline engine to run as it drives and cannot drive under electric power alone.

Consumer Reports recorded fuel economy of 38 mpg in its tests, a figure the magazine called "commendable." The Insight's official EPA-rated fuel economy is 41 mpg in combined city and highway driving.

The Prius is Consumer Reports' top-rated hybrid car and America's top-selling hybrid vehicle by a wide margin.

The Prius was redesigned for the 2010 model year. The 2009 Touring version earned 80 points in the magazine's testing and was the highest-rated hybrid vehicle.

Consumer Reports rates vehicles using a series of standardized handling and performance tests performed at the magazine's Connecticut test facility. It also rates vehicles using more subjective measures like build quality and functionality.
---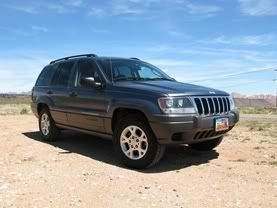 2003 Jeep Grand Cherokee my current DD
1995 3.5L Intrepid, Sold in 2010