Discussion Starter
•
#1
•
From CNN:
Chrysler: Check engine now
Out of bankruptcy but not out of the woods, the automaker is struggling with a stale product line-up and not much new in sight.
By Peter Valdes-Dapena, CNNMoney.com senior writer
Last Updated: September 25, 2009: 1:00 PM ET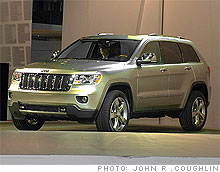 The 2011 Jeep Grand Cherokee is Chrysler Group's next big product introduction, but it's months away
NEW YORK (CNNMoney.com) -- Three months after coming through a federally-financed bankruptcy, the new Chrysler Group still faces serious trouble with no quick solution in sight.
The carmaker may have been given a sleek and shiny new balance sheet, but the products on the showroom floor are the same stale cars and trucks from before and there's not much new to look forward to.
In the hyper-competitive American car market, that empty product pipeline is potentially disastrous. Newly designed and engineered cars and trucks are what keep automakers in the game.
"It's the most important thing," industry analyst Jesse Toprak of Truecar.com said of new product offerings. "It's the lifeline."
Besides a new heavy-duty version of the well-regarded Dodge Ram pick-up going on sale soon, there's nothing new coming from any of Chrysler Group's brands before the middle of next year.
Chrysler needs to move fast to shore up its product plans, said Matt Stone, executive editor of Motor Trend magazine.
"I think they will run out of steam quickly," said Stone. "How long could they prop it up with color changes and incentives? Another year or two, maybe."
New car and truck models are important because consumers are always interested in the newest stuff, Toprak said, but all-new products with the latest engineering and the trendiest designs take years to develop -- time which many experts say Chrysler does not have
Chrysler is currently scrambling to gather the resources, including additional staff and suppliers, to quicken the process, according to media reports.
To try to turn its own situation around before it's too late, Chrysler Group is expected to release a new revitalization plan in November.. Interviews published recently by the industry newspaper Automotive News provide some insight into what Chrysler Group executives might be thinking.
Under the new plan, both the Chrysler and Dodge brands will undergo serious image makeovers.
Dodge will continue to be a performance-oriented brand but now focus more on fun-to-drive qualities than on raw engine power. Chrysler, meanwhile, will move upscale. Way upscale, setting its sights on competing with Cadillac, BMW and Mercedes.
A Chrysler spokesman would not officially confirm anything that was said in the Automotive News report.
When pressed by reporter at the Frankfurt Motor Show recently about Chrysler Group's dry product pipeline, Fiat and Chrysler CEO Sergio Marchionne replied "Who says?" and told reporters to "wait until November."
New directions: In order to crank out new products quickly, Chrysler will likely depend on Fiat for much of the vehicle engineering needed. The Italian automaker's CEO now runs the show in Detroit after it took a 20% ownership stake in the new Chrysler Group.
Dodge's new image as a more fuel-efficient, but still sporty, car brand could benefit from Fiat engineering, said James Bell, an industry analyst with the Web site KBB.com. Fiat is well known for building just that sort of product and Dodge will only be following a larger trend in the U.S. away from big cars and big engines.
"I think it's where the business is going to go, anyway," he said.
While he agrees this strategy could work for Dodge, Motor Trend's Stone thinks a quicker path to profit for Dodge would be to just ditch cars altogether.
"I still think the best strategy for Dodge would still be to become an all-truck division," he said.
Gary Fong, who heads the Chrysler brand, as well as handling sales for all of the Chrysler Group brands, told Automotive News he wants the Chrysler brand to reach toward the high-end luxury car market. He described the goal as "a notch above Cadillac, a notch above Lincoln."
That idea is more controversial.
"Chrysler did used to be an upscale brand, but that is so ancient history," said Michelle Krebs, a senior industry analyst with the automotive Web site Edmunds.com.
Even in those days, Motor Trend's Stone said, Chrysler wasn't really in the luxury big leagues. Back in the 1950s, '60s and '70s -- remember Ricardo Montalban boasting of "soft Corinthian leather" -- it was more of a value-oriented alternative.
That's something Chrysler could shoot for again, he said, as it did with the current Chrysler 300, a car that offers luxury car looks for mass-market money.
"I think there's people proving there's room in that space," he said. Hyundai, for instance, is succeeding with its new Genesis sedan.
Under the best of circumstances, a luxury-leading Chrysler brand will take a long time to build, said Bell.
"To do what they're trotting out here is at minimum a decade-long project," he said, "and that's with killer product."
Another problem is that Fiat could do little to help Chrysler build real luxury cars, said Stone. Even Fiat's upper-end European brands like Alfa-Romeo and Lancia don't have cars that could readily be turned into American-style luxury cruisers, he said. Chrysler will have to start from nothing.
"You're talking scratch-built stuff here."
Gary Dilts, senior vice president of global automotive operations at J.D. Power and Associates, sees luxury aspirations for Chrysler brand cars as more of a vague, long term target than something anyone realistically expects in the near term.
"That doesn't mean you shouldn't shoot for it," he said.
"If there was ever a time to get out of jail, it's now," Dilts said.