Well I got my 2000 Intrepid SE in 2003 as my first car. The exact car I wanted. I learned to drive in this thing and love it to death. Now, a few years later I'm showing symptoms of the modding bug and in the coming weeks I hope to get some really good upgrades for my Trep!
Mods:
- Alpine H/U with IPod connection in the glove compartment
- Flowmaster 40 Series Delta Flow
To-Do List:
- K&N Cold Air Intake 57 Series FIPK Generation II
- Bored out throttle body(?)
- Needs some body work for dents and dings inflicted by my first driving encounters (first blood as my dad calls 'em).
- Window tint
- Spoiler from Spoilerdepot.com
- Repainted taillights
- Black Diamond Headlights
- Painted badging
- Speaker upgrades (any suggestions???)
- Looking around for a nice looking set of black rims
Here's a few snapshots:
Alpine H/U
Flowmaster 40 Series Delta Flow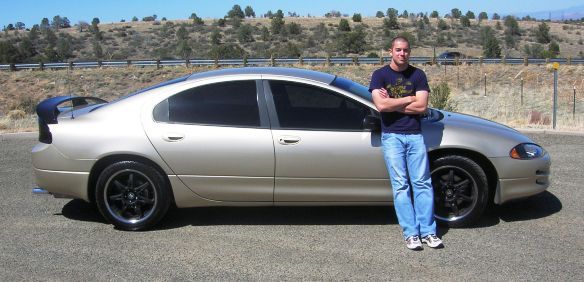 Sound bite of Flowmaster (taken at night with my crappy phone, but the sound is okay):

">
" type="application/x-shockwave-flash" width="425" height="350">
It currently has ~95k miles on it, but I'm going to keep this thing running as long as I can. Engine has already been fixed from when it crapped out, and I just had the timing belt replaced, alignment readjusted, and the transmission had a leak that was fixed (and the computer was reprogrammed).