·
Generating clever phrase...
Discussion Starter
•
#1
•
Well it's about time I did one of these. I bought the car in late August 09. It's a 1997 Dodge Intrepid Sport. Sport meaning Autostick. However it came with polycast wheels and cloth seats. I swapped the seats out for the seats out of my dead LHS. At Danlisle III I met some awesome 1st gen guys who walked me through a few mods.
These are from the day I bought the car:
There is a little dent on the left side of the hood and the usual Michigan stone chips.
The paint looks pretty good for it's age.
The Interior:
Cloth Buckets up front. Only drivers was power so that had to go. You can see how yellow the headlights are.
Rear wasn't bad but had to match the front.
LHS Seats: Installed
Fronts bolted in really easily. They feel so soft.
The rears were a bit more challenging. I found a half deck of pokemon cards in the trep and a bunch of swedish fish but once it was clean they looked like they were factory.
I didn't do much to it for a few weeks then with OHIO III fast approaching I couldn't let my window trim sit any longer.
While in Ohio Doug cleaned up my headlights up really well. It's hard to see at night but they look Brand ADI'ING New.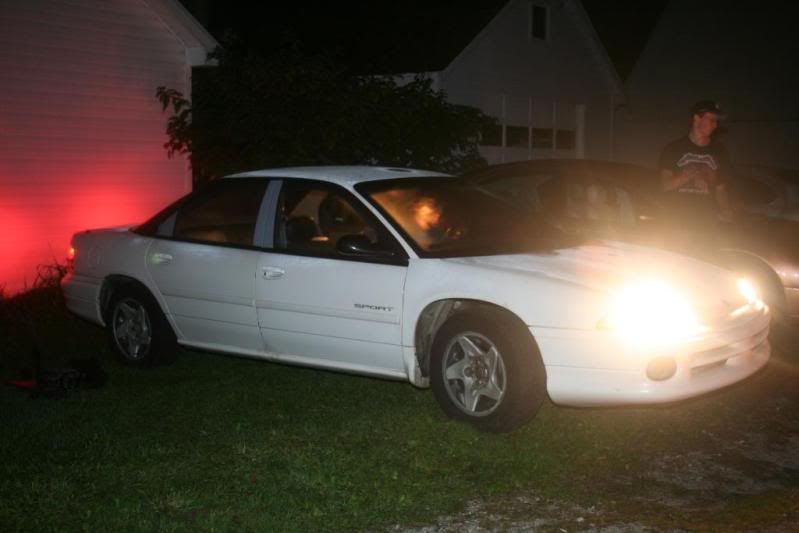 While there Kyle talked me into Seafoaming my trep at 11:00 at night.
This was while putting the seafoam in. Kinda looks like the garage is on fire.
After a failed start attempt and a half....D FOR DUMBASS. Tearing off leaving the road screwed.
Kyle also did my trans filter and fluid. I watched and pretended I could help:
That's all I've got for now. I'll get some OITS pics tomorrow.