Euro-poweR's Sig-Thread (getting dial-up unfriendly)
Well, so I baught a 2000 Intrepid SE in surprisingly good condition mid June 2007.... I stumbled on it by accident (By Girlfriend followed it for 20 minutes around town till they got to the owners house after she saw the for sale sign in the back) and baught it right away. Cheap too
... It didn't have any engine Mod's except that the previous owner took out the air filter and repleced it with a sport version... its pretty amature how he put it in.... he took the original hose which has two holes in it, put the air filter on the front opening and a golf ball in the other to plug it.... interesting, but the mecanics that looked at it said it works perfectly fine... you know you live too far south when you see something like that. I'll add pics of it later.
Car specs:
- 2000 Dodge Intrepid Base
- 2.7l DOHC
- Silver
~ 86.000 Miles
(07-07)
- No Fog lights
(too bad, I think the bumper with the fogs looks at least slightly better then the standard one)
current milage:
91100 (10.28.07)
90550 (10-20-07)
89087 (09-14-07)
Interior Mods done:
- Pioneer DEH-P3900MP CD/MP3 Player
=
$120
- Dodge Motorsports Floor Mats
=
$40
- some minor interior stuff like the seat covers
Exterior & Performance Mods done:
- Taurus Spoiler
(came with the car unpainted)
- aftermarked Air intake
(also came with the car w/ Golfball Mod)
- K&N FIPK
(replaced the Intake above)
= $200
- 17" Nex-O NT-5 Gunmetal Rims with Hankook Ventus HR II Tires
= $900
- Tinted Windows
(15% in the front and 5% in the back)
= $160
- Black Diamond Head lights
(came with it)
- Autostick conversion
(thanks to Imadreadhead) =
$160 + $150 for installation)
- Short rubber Antenna
(not much of a difference to the original one in quality, but looks a lot better) =
$5
- Depadged the hood logo and the door DODGE letters
Mods planed:
- painting the spoiler
- removing Golfball mod and adding a fitting K&N Cold Air Intake
DONE
- OTIS installation
(part is already here, need to install it, thanks to Imadreadhead )
- Installing subs/amps,new front speakers
- slightly lower the car
(1.5" probably)
- paint the breaks
(Silver or keep them black, dont know yet)
- replace exhaust with dual ones
(maybe)
- NOZ Wetsystem
(maybe)
- sway bars
Mods planned in my little imaginary world:
- 2.7 to 3.5 HO conversion
- install body kit
to get rid of the ugly front end
- more likely:
Install ES Bumper with Fogs
- Autostick conversion
DONE
(wuhuu)
Unfortunally I didn't take many pictures when I bought it, but here is one with my 1984 Olds Delta 88 Royal in the background (thank god I sold that POS)
and another one of the whole front end.... and beeing in the desert for the past 7 years, which usually means that all cars around that age have color come of the roof, trunk and hood, but nothing, a couple of scratches here and there, but thats it.... it has about 86000 Miles on it and its in surprisingly good condition. It also came with the Black Diamond headlights
The previous owner also put that spoiler on it... sucks that he didnt paint it, but im gonna do that sometime at the end of the month... usually I hate those car bras, but I actually find it too look good on the trep (better then the actual front end), so im gonna leave it the way it is...
I think that exhaust is stock as well, but he might have added that bigger tip... its somewhat worn down, but looks okay on it
The only mods I have done so far is add those 17" Gun Metal Nex-O's since I had to replace the tires anyway... I dont like chrome or too big rims, so I think this looks quite well, especially for the price.
right now they are quite dirty because of the shitty weather here, but Ill clean this weekend
I have about 10k miles left on the front breaks, and about 20k on the back ones, so while I change them I might as well paint the breaks.... what color would you guys pick?... I wanna kinda keep it silver/grey/blackish, so I was thinking either black (woudnt be much of a change, cleaning them would do that trick) or silver.
I also tinted the windows... they are quite a bit darker in the back then they are allowed to, but psssshht
And heres another one I took with my cell phone today when I was at white sands (If you have seen Transformers, they shot all the desert szenes here).... got to take my digi cam next time I go there, you get some nice pictures.
Here are som interior shoots I took today.. quite dirty, but I'll clean it Sunday. Everything is pretty much stock except for the CD Player, and the Seatcovers. Those are from Wal Mart I belive and also came with the car.... looks okay enough for now, so I dont feel like changing them..... Everything inside the car is in extreamly good condition and looks like new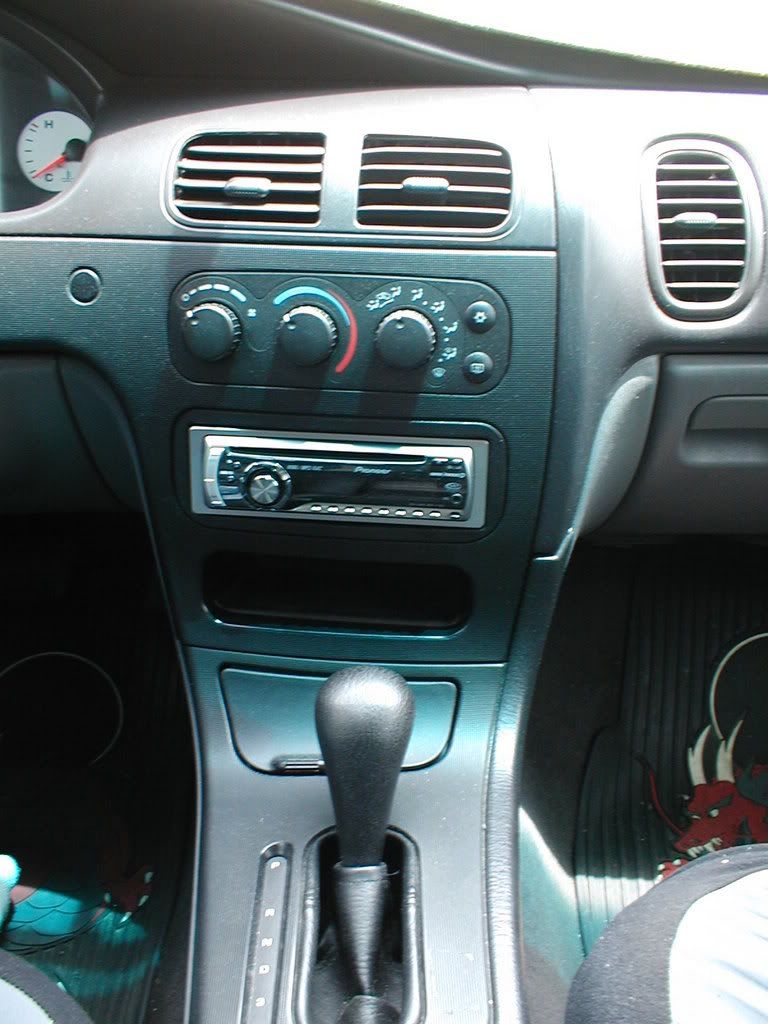 I also took some pictures of the engine... dirty as well ,but in good condition...86k Miles, runs like new and hasn't had any problems yet... impressive for a 2.7
Here you see the "Golfball Mod".. New Mexico State policy: As long as it works, more or less, then we don't care how you did it
08.07:
I took some pictures after cleaning and taking the bra off... I hate it
.. the front end is so ugly.... the bra comes back on as soon as possible... and I had to debadge the front logo, since it was melted or something, it looked strange... now I just have to get the glue of... do that when I get some time.
09.07:
here is an update on the modding, I finally got the Autostick in my 2.7 ... I have to say, its a very nice and cheap boost in the performance and even better the gas millage.. I get some exterior pics tomorrow when its bright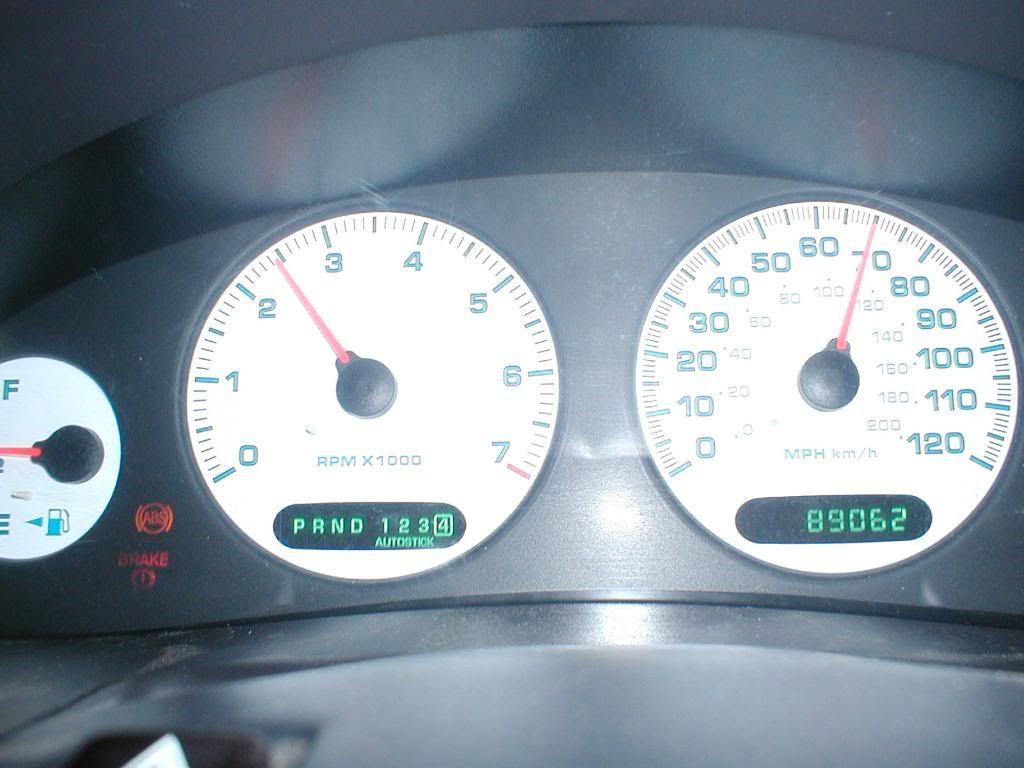 very nice picture infront of our ABE building at the college.... the location and and the lighting is extreamly nice, looks like right out of a car magazine.... unfortunately my old 2.0 megapixel digital camera does not capture the the image very well... hopefully I can take some better pictures with my mums 10mp camera soon.
Here is a nightly group picture (left to right: 02' Civic EX VteC, 90something Prelude H22 VteC, my 00' Intrepid SE and a 98' or so Contour SVT)
10.07:
I finally got to clean the car inside out, polished and waxed and armor alled the interior and engine (that stuff is great). I got me a pair of Dodge Motorsports Floormats and Debaged the Doors and the hood completely now... looks nice. The car is all shiny now, its great... I also ordered a K&N FIPK, its gonne be here next week to replaced the Golfball Mod. Its too dark for exterior shots, but here is the engine... the rest follows tomorrow.
There we go... still dark, since I either work, go to school or (most of the time) sleep when its bright outside, besides I was busy putting in my K&N FIPK in tonight
here is an alright interior picture... that thing on my CD Player is to connect my Zune MP3 player.
And here my newest toy, the K&N cold air intake.... very nice addition... set me back 200 Bucks, but very damn well worth it... no installation cost at all, even I could do it myself... (if I can install it, you can probably train a monkey to do so in half the time, its really easy, takes less then an hour)... good bye golf ball.... (by the way, this means, I got a complete stock 2.7 liter Air Intake for sale.... or a seprate cone filter (not K&N) you might not want to use a golfball to close up the second whole in the hose... I personally would have left the second box thing in there)