[ Kimura's Intrepid M]​
Stock Specs
Year: 2000
Steel Blue Pearlcoat paint
2 Tone interior
Infinity I sound system
DRLs
2.7L V6
173,000 miles when I bought it
Mods so far
Added exhuast tip
Added Dodge licensee plate brackets
Added Dodge leather steering wheel cover
Engine Conversion at 196,200 miles from 2.7 to 3.5HO with 122k on it.
Custom painted 3.5 plenum.
Replaced gray vinyl arm rest with dark slate 300M leather arm rest
Replaced gray cloth seats and with dark slate 300M leather seats, gained 40/60 folding rear seat.
Replaced original 300M rear arm rest with one that has cupholders
Replaced three of the four door weatherstrips
Replaced the aux power jack
Replaced stock gauges with Concorde gauge cluster
Installed chrome door handles
Installed chrome switches
Installed Automatic light sensor and switch
Replaced vinyl shifter with leather shifter
Replaced leather shifter with chrome shifter
Upgraded to 18" Mille Miglia Uno 18"x7.5" wheels. Wrapped in Michelin Pilot Alpine rubber
Removed dealer sticker
Installed OTIC
Installed auto dimming mirror
Replaced seat memory switch so now the memory works
Future Mods
Fix the trunk light
Get the center speaker to work
Upgrade the sound system to Infinity II
Get the body panels to line up properly
Reapply the 3.5HO badge
Replace gray carpet that has a hole in it with black carpet from a 300M
Get black floor mats
Change the interior color scheme to a custom dark slate on taupe scheme
Replace the dash with one that inst cracked
Upgrade to ATC
Get a RB1
Get a CD Changer
Replace Evaporator Core
Get a new a/c compressor
Get a cold air intake
Install true duals
Upgrade the brakes (next time I do them)
Have the windows tinted
Have a one-off front bumper of my own design made
Have the car repainted Deep Water Blue Pearl
Get Caliber SRT4 wheels
Gets some new exterior badging
Realign rear door trim
Possibly replace driver's door (but I may just stick with this one and have the dents fixed when it gets repainted...dunno yet)
Autostick
Considering a OEM spoiler
Considering Spyder headlights
And I'm sure there's more!
My name is Andrew, I live in Lawrence, Massachusetts.
I bought my Intrepid, my first car, at an auto auction in New Hampshire. It was love at first sight and I plan to keep it forever.
I paid $2,100 for it. It took me and 3 other people across country in 2007. Gave me mostly trouble free miles besides a crankshaft sensor and the fuel pump gasket up until the timing chains needed to be done. Now it's gone from the
base
engine to
best
engine (besides the Special's).
Some photos from the night I brought it home: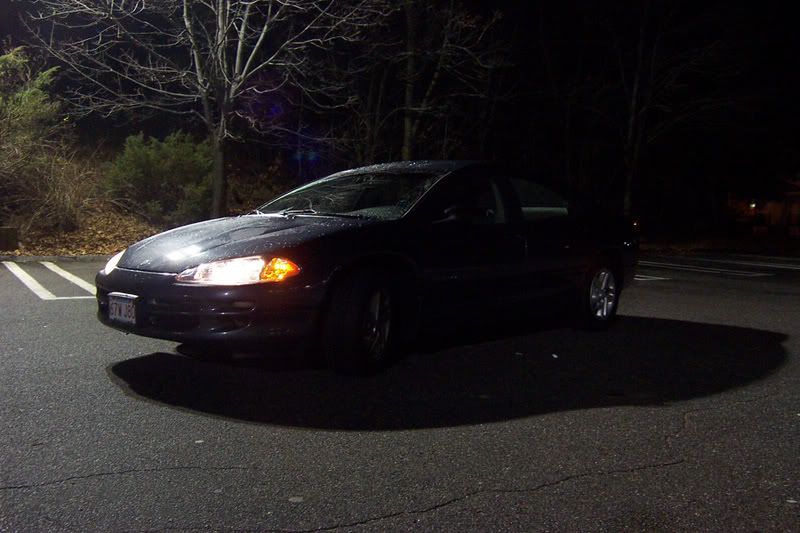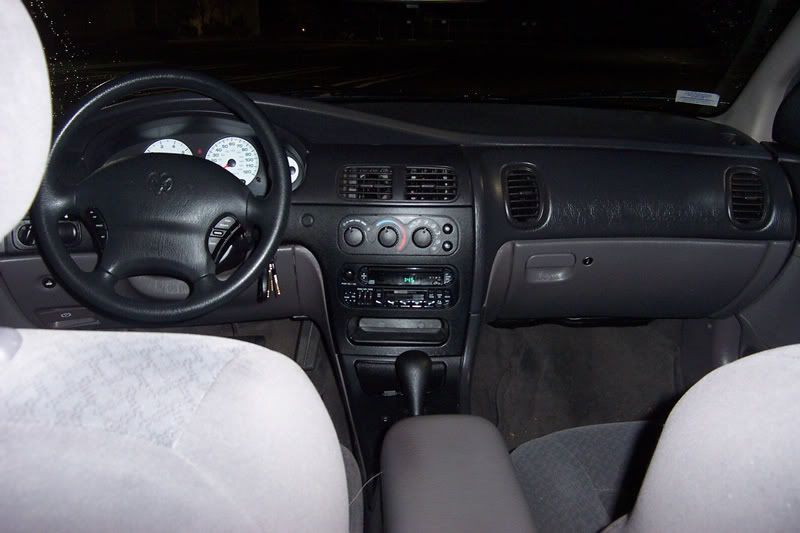 And how it looks today: