Discussion Starter
•
#1
•
July 2012
Final Poll
(We have 4 finalists instead of 3 this month because the tie for 3rd place wasn't broken after the submission period was extended.)
This month's contestants are;
RKBAGUY
2002 Dodge Intrepid ES
Gentlemen,
As a new member here at DI.net, I'm not sure if my car is worthy of some previous submissions which are incredible, but perhaps will stand as an example of what can be done with incremental restoration. Nothing fancy, just get her back to OEM as close as possible.
This submission for July's DI COTM is a 2002 Intrepid ES 3.5 purchased in April at 86,900 miles. My first Intrepid – a '99 ES – is still running at 252,000 miles (in surprisingly good shape) but because of delayed maintenance, has reached the point where it didn't make sense to put the necessary work into it. Fully expecting the same kind of good luck with this new(er) car, I was more than willing to drive the 4 hours from my home in Northeastern PA to the Southernmost tip of NJ to find a good car. It was love at first sight.
There have been no intensive
"modifications"
done as yet, only some routine maintenance to restore the car to OEM condition and address minor issues over the initial two months of my ownership such as:
*Washed, clayed, and simonized
*Polished headlight lenses (better, but they never really look new, do they?)
*Tinted the windows to 25%
*Recharged A/C compressor to reactivate clutch
*Replaced plugs with NGK Lazer Platinums
*
Replaced solenoid pack in transmission to address shifting issues
(P1776/P0841).
*Added
Militec-1
(a metal conditioner) to both transmission and engine oil
*
Removed and cleaned valve body
.
*Filled characteristic Intrepid dashboard crack above glove box with color-matched caulking
On the radar for upgrades:
*New audio system consisting of upgraded speakers and double-din head unit with Bluetooth for hands-free audio and phone
*Upgraded suspension for tighter handling
*Xenon lamps, possibly with Morimoto projectors
""""""""""""""""""""""""""""""""""""""""""""""""""""""""""""""""""""""""""""""""""""""""""""""""""""""""""""""""""""""""""""
VAtrepn
2001 Dodge Intrepid SE
For your consideration, this has been a year of blood, sweat and gears. When I got this car it was a stock 2001 SE. In the last year she has gone through several modifications.
Interior:
The interior was gutted and acoustic material was added to the floor pan, trunk, roof, doors and hood.
The center console was removed and upgraded to Auto-Stick and a new 300 shifter knob was added. The audio bezel and Auto-Stick bezel were carbon-fibered with blue LED's to light the shift indicators. The steering wheel was replaced with a leather/wood 300M one with audio controls. While the roof was gutted, a EVIC harness was added and EVIC was installed. All the interior lights are LED and the cluster is a modified 300m with blue LED's. The cloth seats were removed and leather LHS seating was installed.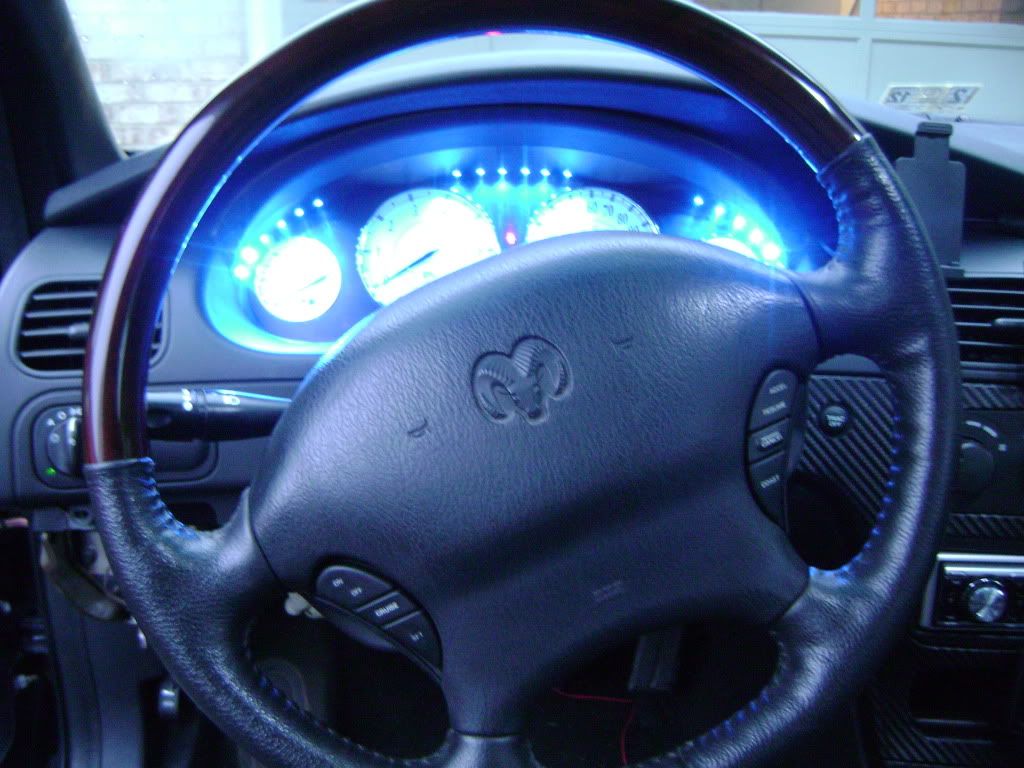 Audio:
Sail panels were added for the tweets and the front sound stage has 6" Infinity composites with 4" Rockford Fosgate mid-ranges. The rear deck has Rockford Fosgate 4 way 6x9's and in the trunk is a 12" Kenwood Sub in a sealed box. The front stage and rear 6x9's are powered by a Sony Xplod 500w amp. The sub is powered by a second Sony Xplod 500w amp. All power wire is 10 gauge all speakers were wired with Monster Wire. The head unit is a JVC with i-pod, Xm, SD and USB inputs. My i-Pod and XM units are direct wired in with all power wires hidden.
Exterior:
The stock front fascia was replaced with one from a R/T upgraded with custom HID fogs. The rear uses a spoiler from a 2008 Charger and the keyhole was removed. New Dodge Ram insignia cover where the hole once was. The vehicle has been de-badged and the rear door insignia panels have a new coat of black with Rampant Lion insignia. The hood was rock chipped so it was stripped and refinished. Headlamps were cleaned and clear coated with 100w bulbs. Switchback LED's were substituted for the stock signal lamps. The rear lights are all LED with a strobe module on the brake lamps. And finally, 2010 Charger Chrome 18's switched out the old 16's.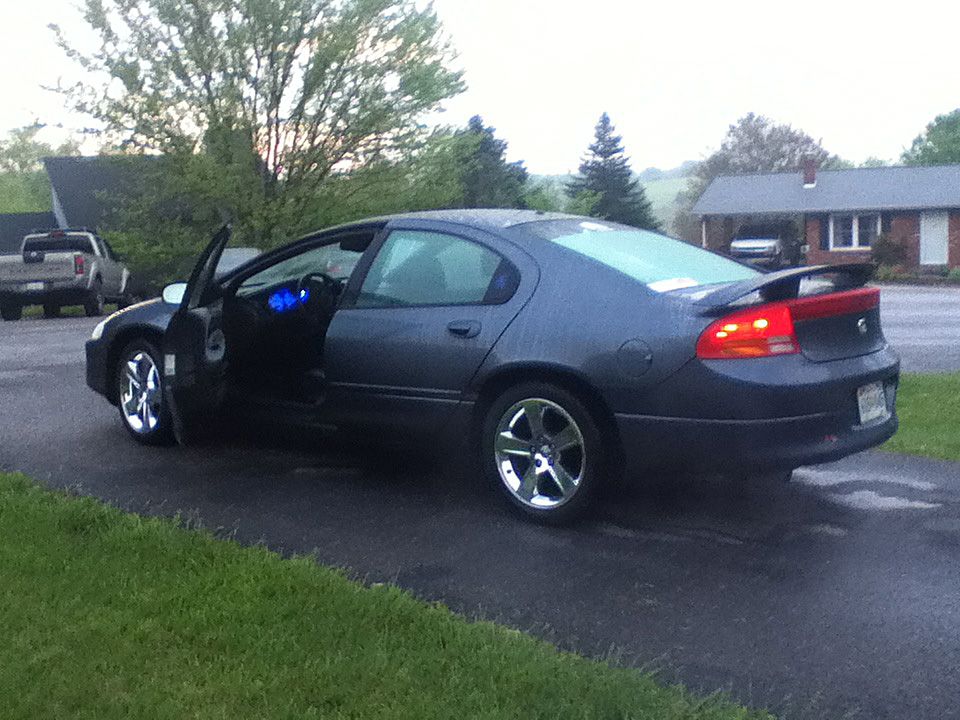 Under the hood:
The stock air box was removed and a custom heat shield was made from a piece of aluminum relocating power and AC lines. A new CAI was added and since I didn't like the black pipe I stripped it and hand polished it to a mirror finish. The PDC was painted to match the vehicle and Dodge Ram insignia was added.
So many more photo's, and still a long way to go, but I'd really like to get some feedback here... Thanks for looking!
Is all this work worth it? Probably not to the average guy on the street. But I know a secret most people don't. With proper maintenance, I can get another 160,000+ miles out of this car. To see a 10 year-old car in such good shape is always a pleasure. I hope you've enjoyed looking as much as I enjoy driving.
""""""""""""""""""""""""""""""""""""""""""""""""""""""""""""""""""""""""""""""""""""""""""""""""""""""""""""""""""""""""""""
Vilgent
2004 Chrysler 300M Special
Overall Vision
Both my R/T and 2002 Special never got anywhere close to complete. I had a vision for both, but progress was slow, and I never saw it through before both cars were gone.
I am committed to finishing my ideas on my 2004. I took a different approach this time, however. Instead of jumping between exterior and interior modifications, I have dedicated myself solely to the interior modifications. When done, I will then move on and finish the exterior modifications without having to worry about the interior. My goals for both is taking a car I believe was 90% finished from the factory, and completing it all the way. This involves a two-tone interior that has not been done before in an LH, and uping the exterior to a more aggressive - but refined - look.
The exterior modifications will be notably easier; they just involve more money. While the interior modifications have been comparatively cheaper, they have taken a lot more time (hunting down sets of parts being one problem, another being the rarity of some of them as well). This car at the beginning of 2013 will be stored away for all but the prettiest of days. As a result, my goal is to get the interior done and then start working on the exterior to coincide with the first "nice day".
Thanks for viewing!
Details:
•2004 300M Special: 69k at time of purchase, 1 prior owner.
•Options: standard Special options with SRS seats and the optional 18's (only optional in '03/'04)
•2-tone interior
Interior Modifications:
•300M 1999: black sun visor inserts
•LH '99-'11: Infinity window grilles
•300M 2001: chrome shifter
•LH 2001: chrome switches
•LH 2001: dark slate door locks with the red triangle
•300M '01-'04: California wood dash pieces and steering wheel
•LH '01-'04: dark slate shifter bezel, cup holders, console lid, and rear vents.
•LH '01-'04: dark slate door trim (dash, front/rear foot pieces, B-pillar, and bottom C-pillar)
•300M 2002: Pro-am seats - added light taupe rear cup holder and seat belts.
•Painted "oh ****" handles
Interior - Future Plans:[/B]
•Paint top A/B/C pillars black
•Wrap headliner in black suede
•Replace bottom plastic dash trim with earlier models' version
•Steering wheel modifications
•Front and rear courtesy lights (just want the lens, undecided on the functionality)

Exterior Modifications:
•Removed 'Chrysler' font from rear

Exterior - Future Plans:
•Spoiler depot spoiler
•20'' SRT design wheels
•35% tint all-around
•Something with the grille; undecided
•Paint calipers red

Audio:
•Head unit: Pioneer DEH-P7400HD
•Mono amp: Hifonics HFi1500D
•4-Channel amp: '99 LHS 360W
•Front speakers: stock LH door speakers
•Rear speakers: Infinity Kappa 639.9i 3-way 6x9s
•Subs: dual 12'' Alpine Type-E's

Audio - Future Plans:
•Sound deaden entire interior
•Replace factory amp with Alpine PDX-F4
•Replace factory front speakers with Infinity Kappa 609CS components
""""""""""""""""""""""""""""""""""""""""""""""""""""""""""""""""""""""""""""""""""""""""""""""""""""""""""""""""""""""""""""

95intrepid99kid
1995 Dodge Intrepid ES

My car, Robin was manufactured on May 25, 1995 and has never done me wrong. The day that my car dies, will be the day I die. She is 100% stock, but once I buy the car off of my parents, that will be subject to change. Robin was in an accident when she was one month old, and now has some severe hood paint molting, and an accident in 1998, where someone rear-ended her. In both accidents, the occupants in the Intrepid walked away with no injuries. She has also been in an accident while unoccupied, where my dad's small tractor did a wheelie into the rear bumper. There is no structural damage to the car, and she drives quite well in our field!


Here are the standard features:
*Power Antenna
*Infinity(r) Spatial Imaging
*3.5L V^ w/ 214hp
*Speed Proportional Steering
*Power Seats
*Remote Keyless Entry