Discussion Starter
•
#1
•
From CNN:
Meet the $90,000 Mustang
A limited edition of handbuilt Mustangs commemorates Lee Iacocca's role in creating the car 45 years ago.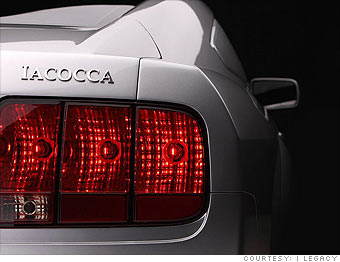 Pricey customization
A typical Ford Mustang GT costs about $30,000. Now a custom carmaker is transforming 45 of those regular Mustangs into $90,000 hand-built Iacocca Edition Mustangs.
Galpin Motors, the Los Angeles dealership selling these cars, is well known for custom cars. This model aims to commemorate the role legendary auto executive Lee Iacocca played in creating the original Mustang in 1964.
For three times the cost of a regular V8 Mustang, the Iacocca Mustang is equipped with a 4.6-liter 300-horsepower engine, just like a stock 2009 Mustang GT, but with Ford's Racing Handling suspension package. Performance options include a Ford Racing brake upgrade, a Cold Air Kit that boosts horsepower to 320 and a supercharger that boosts horsepower to 400.
"The majority have sold with the supercharger and brake upgrades," said Terry Miller Galpin general sales manager.
With those options, the price rises to $105,000.
But this car really isn't about raw performance. In this case, the price has much more to do with exclusivity and style than just smoking the tires. Only 45 of the cars will be made and it takes a long time to make them.
Not everyone is convinced these cars are worth the money but, then again, fewer than four dozen people will need convincing.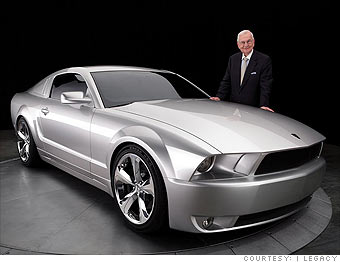 Legendary name
Iacocca, who started out at Ford and ascended the corporate ladder through the sales department, isn't known as an automotive genius as much as a deft marketing hand. He knew what buyers wanted, sometimes even before they knew it themselves.
Of course, most people associate Iacocca with Chrysler, not Ford. Iacocca led Chrysler out of a grave financial crisis in the early 1980s and became the carmaker's public face, even appearing in TV ads.
As general manager of the Ford car brand in the 1960s, he was the Mustang's driving force. He wanted a fun, inexpensive car with just enough practicality.
Michael Leone, who designed the Iacocca Edition, insists that Iacocca himself was intimately involved with every detail of his namesake car.
"He really wanted this to be the car that represented the 50 years he put into the automobile business," Leone said.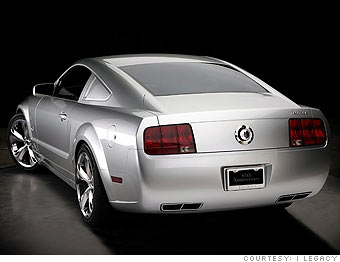 Hi-tech looks
Besides the Iacocca Edition's limited run, what makes this car cost $90,000 are the high- tech materials it's made of.
These cars start out as factory-built Mustangs, but they're torn apart and rebuilt with new bodies.
Their original sheet metal is completely removed and mostly replaced with "composite construction laminate," a light-weight but strong material that's used mostly for race cars.
The most obvious difference, visually, from a stock 2009 Mustang is that the Iacocca Editions are "fastback" cars, meaning that the roof line flows cleanly down to the back with no flat "deck" for the trunk lid. Also, the car's lines have been smoothed out. The rear bumper and taillights, for instance, are flush with the back of the car and don't bulge out.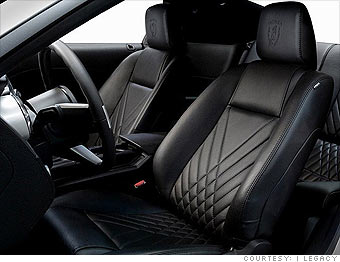 Insider appeal
The interiors of the stock Mustang GTs are also removed and replaced with specially designed leather seats featuring a unique "Iacocca Mustang" crest.
The same crest appears on a badge on the car's hood, each one handcrafted.
Roughly half of the 45 cars have already been sold, Miller said. Most buyers are, of course, Mustang collectors.
But anyone hoping that these rare cars will only go up in value will probably be disappointed, said McKeel Hagerty, president of the collector car insurer Hagerty Insurance.
Beyond performance upgrades that could be had for much less, the Iacocca Mustang's uniqueness is largely cosmetic, albeit expensive.
"Bloated cost structures don't equate to great vehicles by any stretch," said Hagerty.
These cars will likely sell, though, he said, "to folks who are huge fans of the man, maybe."