Discussion Starter
•
#1
•
I'm starting a new thread from the 2nd Gen "water pump" thread I was on. The car is a 01' Intrepid SE w/ 2.7 &143K miles. I installed a new water pump about 40K ago and was running mav'alously until the noise @60 mph. (please refer to my prior posts on the 2nd Gen. "water pump" thread (pgs. 4-5). After removing the oil pan I found the metal pieces at the bottom and in the pick-up screen. In an attempt to narrow down what happened I'm tearing the engine down until I find, One; what the original problem was and Two; what got torn up. I separated the issues cause' I'm not 100% sure they're related cause' I don't know what caused what. Anyway I took some pics of the pieces that someone may recognize or have a clue where they lived before the mechanical turmoil. I also added a pic of the chain and timing cover as they were when removed. Those items along with the windage tray (or splash plate if you will) and the general crank area were clean with no immediate evidence of damage. I did, however, freak a little when I saw the machined "scallops" taken from block from where the bores emanate. I figured the engineers had an "oh' s*&t" moment when they found that the crank wouldn't clear the block or they were going to prep the block to stroke it, e.g. 383. The rod pic I think is of the #6 (furthest back anyway) which is the only one that seems to have more side play than the others but not much. None seem to have any up & down play but I haven't rotated the crank yet to get back under and check. (I don't slide under cars nearly as well as I used to) they're posted here only to show what they looked like when first seen.
The metal pieces are all similar in that they are magnetic, thin and flexible. They were crumpled up and I straighten them out as best I could. The smaller pieces were scraped out of the oil pick-up screen and seem to be of the same material but really pulverized.
If anyone has a clue to what this stuff is I'd appreciate anything. One thought was that a rod bearing failed but I hasn't seen any evidence of it visually. Not that I'd be able know anyway. I'd think there would be some residue around the rod/crank journal area. But if it spun I might not know for sure till' I take it apart. Was thinking if a bearing spun it could block the oil passage and cause great woe and despair.
Anyway, for what it's worth, any comments or other discussions/opinions would be appreciated.
Thanks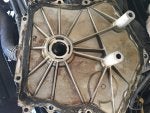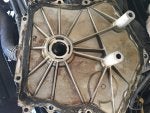 all