So since I cant edit my old page I figured Id make a new one rather than add to the old one. Me and this car go way back, 16 years back. I was 17, and just got my license my dad said he would help me out and buy my first car. He threw me an Auto trader, and said pick one no more than $2,500. I picked out a lot of cars 2 of which were Camaros. He chose this one first, and called the guy. Bought it December 4 2000.
This is in Spring or early summer 2001
I drove it every day through high school. Did typical dumb high school kid stuff with it. Then a month before I graduated in 2003 I was driving to work and a Santa Fe pulled right out in front of me while I was doing 50 MPH I slammed on the brakes, and I ran in to the back of her. The cops cited it as her fault as failure to yield.
Insurance totaled it but I wouldn't let then junk it so I bought it back and using junk yard parts and a tree fixed it myself
I went to School in NC and didn't think The Camaro would be reliable enough for the trip as well as the stay there. My mom was looking to get rid of the Trep, and buy a new car. So I talked them in to giving me the trep for the Camaro, and use the Camaro as the trade in on the new car they agreed and that is how I got the Trep. They decided not to trade it in since my brother was going to be getting his license in a couple years, so it sat and was used as a back up car for a while. He got his license and drove it for a while but didn't like it and got a Jeep instead, so The Camaro sat again. Then in 2008 we sold it to my friend who drove is for a year and then parked it for another year. Then he asked it I wanted to buy it back so I jumped on it. This is what It looked like when I picked it up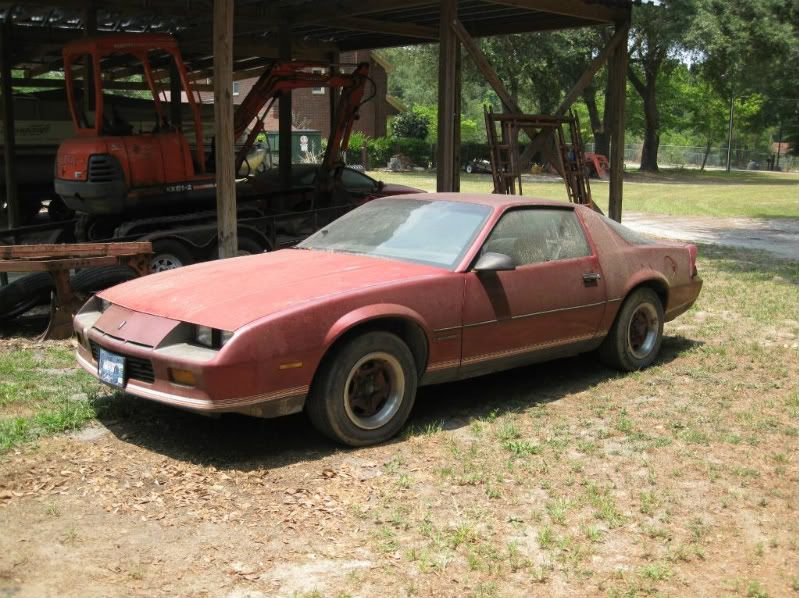 Put Some new tires on it and rebuilt the carb, replaced almost the entire steering system, replaced the front brakes. I rotated driving duties between the Trep, Miata, and Camaro
Eventually sold the Miata to my dad, Had to reluctantly sell the Trep. and started to drive a 99 Saturn that was just sitting in front of the house and this was my fleet for a while
But now The Camaro is once again the only car I own. I grown to absolutely love this car, and I will have it till I die.