Discussion Starter
·
#1
·
OK, here we go, since we are all on a Photoshop kick lately, I decided to go the
other
way...
What do you
not
want your Intrepid to look like? That's right folks...the dreaded
Ricer
look.
In order to not offend anyone, I used my own ride as the guinea pig. (I am still wincing everytime I look at this picture.)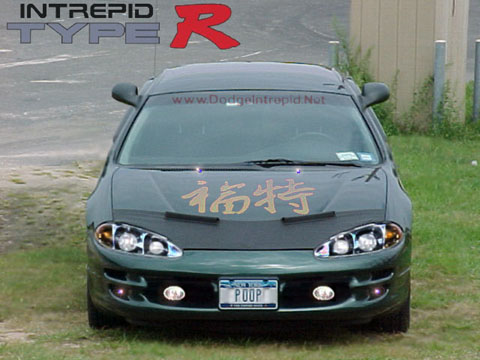 Notice the horsepower inducing modifications I have made to it:
Obligatory non-translatable Chineese writing
$800 Projection Beam Headlights
Blue Washer Nozzles
Relocated Side Mirrors (so you can watch the guy's roof behind you!)
Massive front air intake (filled with Rally style driving lights)
Even more driving lights
Personalized License Plate describing your ride to the world
Single center mounted windshield wiper
Your club name across your windshield (sorry Randy ! )

Now that we know not what to do...
**In case anyone does have any of these mods, please take it in good humor...I'm only goofing around!
[ November 12, 2001: Message edited by: Intrepidatious ]