Discussion Starter
•
#1
•
Back story on my vehicle:
2001 Intrepid 3.5 V6 w/168k miles
Mods
• K&N intake setup
• Under drive pulley
• 3.89 gears
• Complete "Special" suspension setup (front/rear sway bars/springs/struts/all new rubber)
The suspension was done about 3 years ago, and after it was installed it handled much better than the tired old suspension, which had around 135K of very used miles. My commute (75 miles a day) is a combination of traffic jammed local roads and high speed expressways/toll roads, with speeds averaging 85 mph on the toll roads and 5-75 mph on the local roadways. Since the install of the poly mounts that Johnny sent me, I've logged 300+ miles of mixed driving. This was so I could give him a really a much better idea of how the car responds on both wet/dry pavement in the ever changing Texas weather.
From the time I left my buddy's house that did the install, I immediately noticed a difference in how the car handled, and just like I told Johnny, I was very shocked. This is what I noted right off the bat:
Acceleration from a stop
• Tap the gas and the tires would immediately hook and the car would launch
• Floor it and the tires would break/spin and launch in the car whatever direction you were pointed. Almost 99% of the time, the traction light would come on due to the wheel spin and the front tires have plenty of rubber.
Acceleration from a roll
• Tap the gas and just like from a stop, car would lurch forward
• Floor it and my car would just go, period. No waiting for the suspension to settle (for lack of a better word) or shift.
Handling (High speed)
• Car was much flatter entering and exiting turns and it would maintain speed throughout. In fact, on almost every occasion, my enter/exit speeds were much higher than the car could previously handle, even with the "Special" setup.
• Quick maneuvering, the car felt agile. Never felt the car was losing control or was too much to handle
Handling (Low speed)
• Car would corner much tighter and with less steering wheel effort
• Just like the high speed handling, entering or exiting turns, my car was much flatter and would maintain speed throughout. Enter/exit speeds (on the roads I tested) were much higher than my car could previously handle before
• Quick maneuvering, the car felt agile. Never felt like I was losing or lost control
Suspension Noise
• Prior to this, I actually had a noise/creak from the front suspension. I figured one of the sway bar bushings had decided to give up the ghost, but in fact it was the cradle mounts making the noise. After the swap out, the front suspension noise is gone! From first glance the old OEM mounts looked normal, that is up until I grabbed one. Although they really showed no signs of rips, tears, or falling apart, I was surprised on how soft they were. I thought to myself, this was holding the suspension together? The old rubber bushings compared to the new poly mounts and how they felt (rock solid) was not even a contest.
Install time
It wasn't super difficult (install time was around 2 hours or so) and it was done in a driveway with jackstands and power tools.
My overall thoughts
Just like I told Johnny via email, this was one of the best mods I've ever done to my car, period. Car handles much better than it has in years, and this was after spending around $2k in suspension parts for the "Special" swap. These mounts made that much of a difference! I am now a total believer when it comes to the poly mounts and I look forward to buying the rest in poly (end links/swaybar/strut mounts) from Johnny in the future.
Two thumbs up!
Old bushings being removed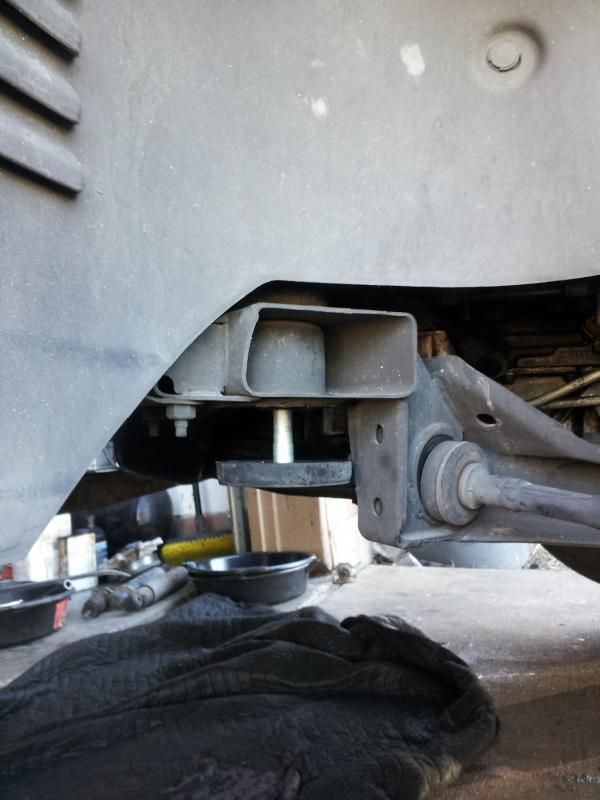 Old bushings
New bushings compared to OEM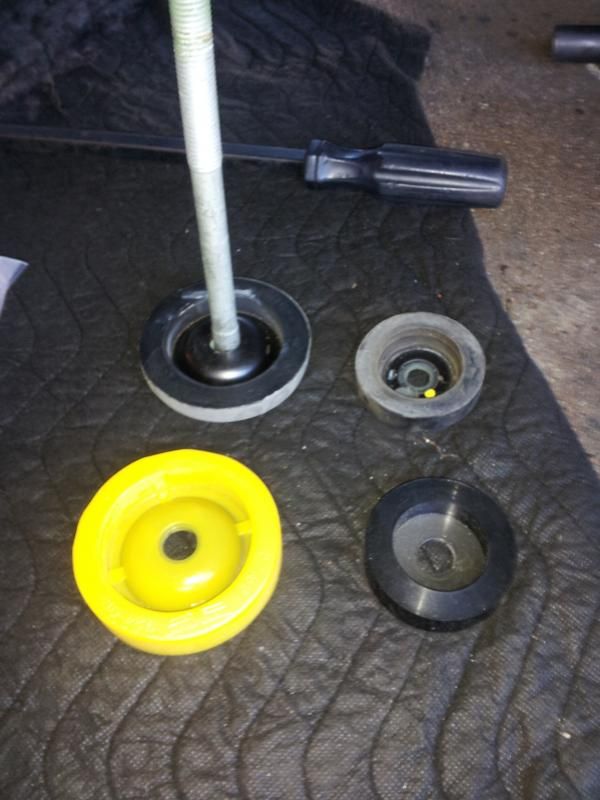 Installed