Discussion Starter
•
#1
•
So today, The Eagle went autocrossing. This is the first time I have raced the car with the new rear swaybar and I ate so many cones first run it wasn't even funny. The car oversteers ALOT. I have never had any issues on the rear sliding out or wanting to but I did today. At some point I actually was drifting of sorts.
By my fourth run I went and adjusted my tire pressures to help compensate for this, with the frotn bulging at 45 psi and the rear lower at 32 psi, the car found itself closer to a neutral state and was much more controllable under heavy handling conditions.
I do not remember the excat times for I had in total 2 clean runs out of 6 without hitting cones. Seeing that everyone murdered cones just as bad I do not feel as bad. My laps times started in the high 57.XX range with a clean lap of 57.009, and on my fourth try, nailed a 55.XX clean lap making it my fastest run of the day. The last two runs saw me driving harder and pushing the car to its limits and I found myself getting into the 54.XX range. Fifth try I hit two cones, the Sixth final run I just nearly tipped a cone over. (Cones add 2 seconds btw)
The class I was in had 3 other cars, A 2011 Scion TC, unknown mods, a mostly Stock mid 80 RX-7, and a Miata with unknown mods. All three cars had more experience drivers than me and manual transmissions to boot. Their time ranged from low of 51.xx (I believe) to 53.xx per lap. Needless to say they were astounded to see me come kinda close in such a diverse car from what they were running. Once again the Eagle was the Biggest car there (besides the Nissan GTR) and surprised many people.
I still need slightly lower profile tires and a more heavier duty front sway bar to match the rear unwavering ability to roll.
And here are some pictures followed by a inside view of me driving!
Here are a few pictures and a video, PB is being weird right now so I will have some other pictures later. My buddy took these pictures and I have no clue why his camera is so stupid, or either he is. (mis coloration)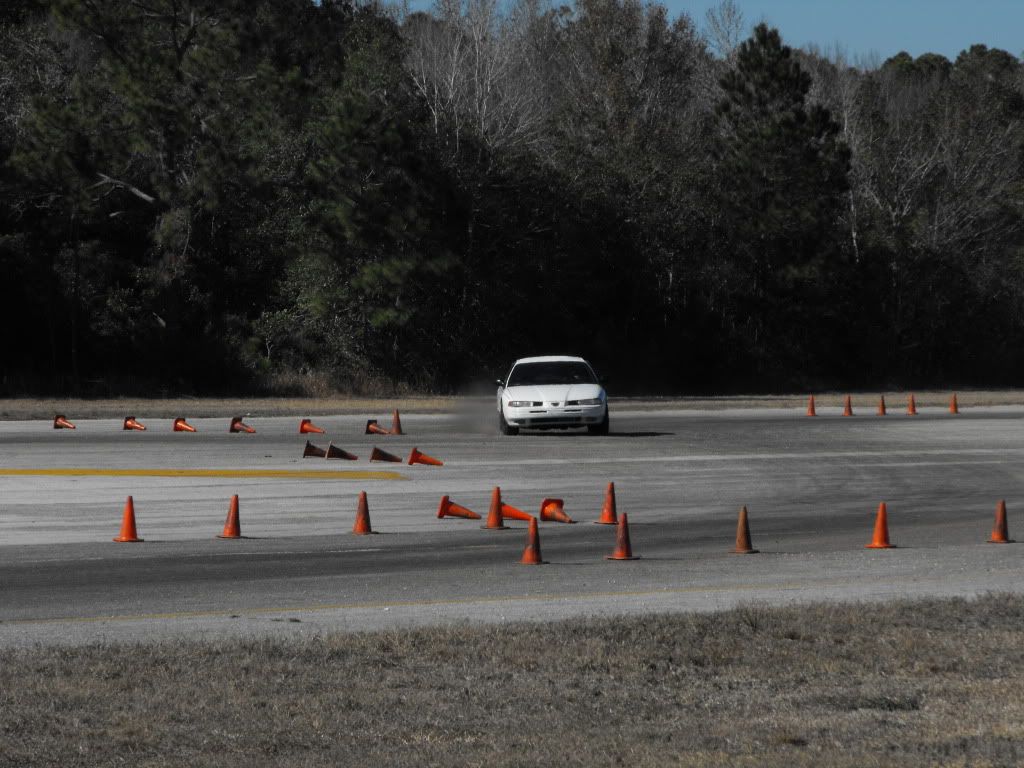 autocross :: EagleRun1.mp4 video by EagleESi94 - Photobucket